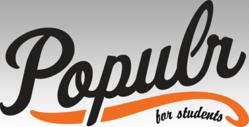 Populr.me supports education by allowing students, schools and school faculty unlimited accounts, at no cost.
Nashville, Tennessee (PRWEB) March 22, 2013
On March 12, 2013, Nashville micro-publishing start-up platform http://www.Populr.me announced it will now offer complimentary accounts to all schools, universities and students. Students and schools who register at Populr.me will receive complimentary accounts along with unlimited online page creation.
"Education is an obvious next step for Populr.me's business plan since so many students have already engaged it for creating interactive reports and communications. University staff's are quickly engaging Populr.me due to it's privacy settings, allowing teachers and administrators the ability to password-protect online presentations, documents and reports, sharing their communications with only those who are granted access. Students are using Populr.me for creating and publishing interactive reports, summaries, business plans, and so mmuch more. It's now our job to make sure we provide the tools and functionality students, teachers and staff need to make better, more impactful communications," according to Nicholas Holland, CEO of Populr.me.
Populr.me allows users to create single-page communications called, "Pop's". Pop's is short for "Published One-Pager". Each POP page can include unlimited images, text, videos, forms, maps, and countless embedded features. POP's can then be shared via email, Facebook, Twitter, LinkedIn and Google+.
http://www.Populr.me officially launched in January 2013, and has since created various usage examples for individuals, businesses, and is now focuing on education. Populr.me allows all users the ability to use the online publishing software at no charge, and pay only when their needs exceed the introductory plan of three pages. Students and school faculty may now signup and receive unlimited pages creation along with extended functions not found in the introductory plan.
Below, are a few exaples of what students and school faculty have begun using Populr.me for:
School reports
Business plans
Class topics and notifications
Online training
Internal memos
Schedules for plays, sports and lectures
Sales Proposals
Sharing and collaborating knowledge outside of the classroom
One of the many benefits Populr.me offers is instant notification. Students and faculty can easily create custom links called "tracers" and share them via email for most all of the most popular social networks. When their link is clicked, they receive email notification letting them know the page has been viewed. Notification helps students and faculty know if and when their communications have been shared.
Schools, students and faculty interested in receiving complimentary accounts with unlimited pages at Populr.me can get started by visiting their page at http://internal.populr.me/students.