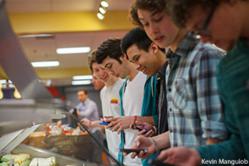 Lynchburg, Va. (PRWEB) March 21, 2013
Continuing its commitment to helping students make healthy dining choices, Sodexo, Liberty University's dining services provider, has recently launched a partnership with MyFitnessPal, a free app for counting calories and monitoring diet and exercise.
Liberty students can track their meals on campus by simply using their smartphone to scan barcodes displayed on the printed nutrition information signs at Reber-Thomas Dining Hall.
"We are really trying to implement programs that are going to be beneficial to the student," said Julia Pfeifer, Sodexo marketing manager. "We try to do everything we can to teach them healthier habits. Ultimately the choice is up to them … this is just another way to help them be conscious about what they are putting in their bodies and understand the results from it."
MyFitnessPal has more than 2.5 million food items in an ever-expanding database, including nearly 50,000 food brands and restaurants. Users can customize their profile to remember favorite meals, support specific diets, personalize weight-loss goals, and find support and motivation through discussion forums.
The app is available on Apple, Android, BlackBerry, and Windows devices.
Sodexo has uploaded thousands of its recipes in the app's database, all searchable under "Sodexo campus." Students can automatically add them to their profiles by scanning the barcodes.
Pfeifer said MyFitnessPal is simple and takes a lot of the "guesswork" out of counting points or calories.
"We know that the programs we run on campus really have to create a better experience for the students and if it is something that is cumbersome or difficult to navigate or it is an app that is very hard to understand … it is probably not going to be efficient and they are not going to do it," Pfeifer said.
She said Sodexo offers plenty of healthy alternatives to some of the popular "junk food" items and encourages students to find a balance.
Sodexo is also committed to supporting those with special dietary needs.
This national partnership with MyFitnessPal is one of many ways Sodexo is helping guide students toward a healthier lifestyle. Robin Quay, Sodexo's registered dietitian, provides resources and dining tips to students. She is available for one-on-one consultations, and also teaches a number of cooking classes and wellness seminars each semester.
Because of its unique Christian mission, Liberty is committed to encouraging holistic wellness — producing champions of body, mind, and spirit.
Quay is leading a small group Monday nights on the Daniel Plan, which focuses on a holistic approach to diet and lifestyle, emphasizing the importance of seeing the body as a temple. Students are learning that what they consume is a representation of who they are.
"This is just another way we're helping students realize the importance of treating their body well, eating well, and making good decisions," Pfeifer said.
ABOUT LIBERTY UNIVERSITY:
Liberty University, located in Lynchburg, Va., is the world's largest Christian university. Nearly 100,000 students attend classes on its 6,800-acre residential campus and study in its thriving online education program.