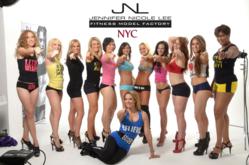 (PRWEB) March 24, 2013
Jennifer Nicole Lee loves to make other peoples dreams come true, and this is why she created her now world famous "Fitness Model Factory 1 Day Mega Events!" She will be working with a select group of women who apply through http://www.FitnessModelFactory.com for the New York City 1 Day Mega Event on May 5th, with special after event rooftop pool party.
Jennifer Nicole Lee is known to produce big events, and she likes big things, big events, and big news. She has been stated that "small things make me shrink inside, and I don't like impotent subjects or productions. My motto is go big or go home. And yes, the bigger the better. It take the same amount of energy to focus on small goals as it does big goals. So, I only do my productions up big, and only invite the best, and work with the best." Next up on JNL's super packed busy agenda is her big celebration on May 5th 2013 in the city of dreams New York City, with some of the most powerful women who she has handpicked.
JNL's co-host Dr Cindy Bressler will also be speaking on how to "find the riches in the niches". She also showed how she uses the JNL Fusion method to achieve many of her fitness goals. She is someone all can learn tons from, as she runs a super successful, top notch Vet/Pet Service to the affluent stars and celebrities. She built her own brand to cater to the A-listers.
The women who attended are stellar in their own right, shining bright in their ambitions, dreams, goals and passions. For more info, please http://www.FitnessModelFactory.com