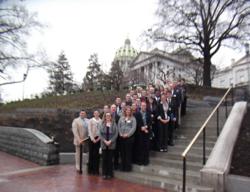 "We effectively brought our message to a number of legislators and raised awareness of PATS and the profession in general." Angie Armbrust Senior Associate, The Winter Group
Harrisburg, PA (PRWEB) March 25, 2013
Pennsylvania Athletic Trainers' Society [PATS] Board members, committee members and students met with 35 State Senators and Representatives this month. The group's members had the opportunity to speak with Senator Scott Hutchinson and Representatives Jordan Harris, Brian Sims, and Stephen Kinsey about the role of PATS and athletic training has on our student athletes. Since gaining Licensure in 2012, athletic trainers have played a key role in changes to how student athletes receive treatment and care.
While at the capitol, they took the opportunity to reconnect with other congressional leaders such as Senators Tommy Tomlinson and LeAnna Washington to continue discussions about legislation that will strengthen Licensed Athletic Trainers' abilities to safeguard student athletes in Pennsylvania.
However, Athletic Training Month is not yet complete. Educational events statewide will be accompanied by Pennsylvania Athletic Trainers' Political Action Committee [PAT- PAC] fundraisers. The importance of these fundraisers can't be understated when it comes to maintaining the voice of athletic training with its' legislative efforts.
Current legislation includes working toward schools having better access to AEDs with more qualified professionals on-site at all times. Also, concussion treatment protocols that include academic guidelines for proper return to the classroom is another PATS goal.
One of these educational and fundraising events was held on Tuesday March 19, at Williamsport Regional Medical Center. PATS along with the Wilkes-Barre Penguins will host a pre-game event Saturday March 23, in Wilkes-Barre, PA. Guthrie Sports Medicine will host a Post-Concussion support group meeting on March 24 in Sayre, PA and on March 28, an educational conference will be held at Sharon Regional Diagnostic Imaging Center in Sharon, PA.
These are only a few of the efforts that athletic trainers are involved in to stay current with relevant topics and also support the families and athletes they assist. Other events occurred earlier this month, both educational and social, including the Tenth Annual Athletic Trainer River Run in Pittsburgh; which has served to educate the runners about athletic training and to raise money for an athletic training scholarship in SW Pennsylvania.
Compared to other states, Pennsylvania boasts one of the highest numbers of athletic trainers and education programs having over 3,000 licensed athletic trainers and twenty Accredited Athletic Training Education Programs respectively.
Athletic Trainers are health care professionals who are licensed or otherwise regulated to work with athletes and physically active people to prevent, diagnose and treat injuries and other emergency, acute and chronic medical conditions including cardiac abnormalities and heat stroke.