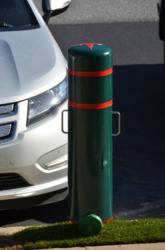 I urge readers to use their imagination and take risks with invention; It usually yields totally unique results, like my custom Tesla charging station.
Baltimore, MD (PRWEB) March 26, 2013
Last week, Rick Hesel, a self-taught electronics expert, unveiled an extremely unique and "green," custom-built plastic bollard. After placing an order for a P28 Tesla, he began searching for ways to improve the electric charging system that had been installed outside his townhome and his ingenuity has led to what may be the most creative use of a plastic post cover ever.
"I've had a very strong inventive streak most of my life as well as a DIY mentality," says Hesel, a principal at Baltimore's Art and Science Group." I believe that if you're willing to do some research and hard work, and are eager to learn new things you can do just about anything."
After having the electric car's charging system installed, Hesel noticed several downfalls. The charging system was no more than a curb-side outlet that left mechanical and electric components exposed. Vandalism would pose a potential threat and rain water would create safety concerns. There are companies that offer plastic charging stations but Hesel says the shipping was expensive and the devices were not perfectly suited to his application. Rick decided to create his own plastic bollard charging station and he turned to Reliance Foundry to supply the plastic bollard cover.
"I did some pretty extensive research on the web about bollards and bollard covers; that's how I found Reliance," said Hesel. "On that basis, I concluded Reliance had superior products. Their web site also had extensive technical data about the products, which sealed the deal for me."
Rick selected Reliance Foundry's model R-7120 plastic bollard cover to perform the task and, after a month of "weekend" work, the results of Hesel's endeavours have been spectacular. The "Tesla Station", as Rick refers to it, uses a Hubbell 3 pole, 4 wire plug to connect the charging bollard to the outlet. It is situated at the bottom of the bollard and allows the entire unit to be moved indoors when not in use. The entire unit is waterproof and safe. For aesthetic effect, he special ordered a Tesla logo and added red accenting stripes. The Tesla station generated a lot of "buzz" in Teslas's online community last week and it has led to Rick being asked if he plans market his design.
"As far as patenting this; it's probably not possible" replies Hesel. "I urge readers to use their imagination and take risks with invention. It usually yields totally unique results, like my custom Tesla charging station. It likely will be the only one in existence, and it was great fun to do."
Reliance Foundry's plastic bollard and post covers are available in ten standard colors, with three different accenting stripe options. They are light-weight, highly-durable and cost effective. Generally used to protect bumper posts, they eliminate the need for annual scraping and painting while increasing visibility and safety. Reliance Foundry's plastic post covers are easily maintained and all models are kept in stock and are available for shipment immediately. To view plastic bollard covers that are perfect for adding weather resistance to posts (or for developing your own clever invention), visit Reliance Foundry's bollard cover website.