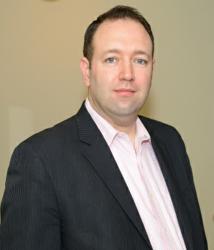 Speaking to watching the games on company time, La Vecchia stated, "[Managers] should embrace it and actually promote it amongst their team."
New York, New York (PRWEB) March 25, 2013
Thomas F. La Vecchia, MBA, CEO of X Factor Selling Systems, aka The Sales Expert, spoke to multiple national radio stations this week about the gained productivity of employees watching basketball on the clock and how the Twinkie brand's under-whelming comeback could be salvaged.
Thomas F. La Vecchia, MBA, was called on this week by numerous national radio stations as a Business and Sales expert to weigh in on current topics. The X Factor Selling Systems CEO discussed everything from tips to small business owners to the Twinkie comeback on stations out of LA, Chicago, Phoenix, Palm Springs, Jacksonville, Seattle and Denver.
On Seattle's Komo News radio, La Vecchia discussed the NCQA March basketball tournament with host Bill Rice. Speaking to watching the games on company time, La Vecchia stated, "[Managers] should embrace it and actually promote it amongst their team." The Sales Expert explained that within the large umbrella of lost productivity reasons (calling out of work, etc.), that March Madness can actually be used to spark teamwork and camaraderie. The Sales Guru deemed March Madness "lost productivity" as a "blip on the radar" also stating that great companies will know how to embrace the tradition on company time and do so in the right way.
Also in this weeks packed schedule as a Business and Sales Expert consultant for radio, Money Radio (both Palm Springs and Phoenix based channels) called on the Sales Guru for some insight on the Twinkie comeback. The Sales Expert blamed lack of marketing and lack of brand positioning for the third recent bankruptcy of the nostalgic snack food. La Vecchia, commented on the lack of the iconic brand's marketing in the social media age by stating, "In this environment there is zero excuse for lack of marketing."
La Vecchia explained that with the recent launch of his book, The X Factor Selling System: The Sales Expert's Guide to Selling, he has used social media and other guerilla marketing tactics to climb up in the ranks-questioning why Twinkie can't do the same. His book recently hit #1 on Amazon for new Sales/Marketing books in the last 30 days, and his kindle version reached #99 in the top 100 in Amazon sales.
All of The Sales Expert's radio interviews can be found here
For more information about Thomas F. La Vecchia and X Factor Selling Systems visit thesalesexpertusa.com
or contact Deanna(at)thesalesexpertusa(dot)com