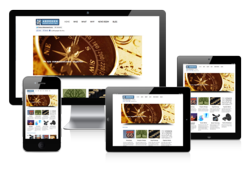 For over a decade we have been providing communications and government relations services to clients across the country
GREENWICH, CONNECTICUT USA (PRWEB) March 22, 2013
Aberdeen Associates, Inc., a Greenwich-based full service communications and government relations firm, today announced they have launched a new website that highlights their services and work for their clients.
The new site: http://www.aberdeenassociates.com, highlights Aberdeen's services including; branding, graphic design, copy writing, public relations, digital media, social media, media training and government relations. The "Who, What, Why" theme allows viewers to easily understand who Aberdeen is, what type of work they do and why they are a sought-after firm. The site also offers enhanced News Room and Blog platforms.
Peter Barhydt, President of Aberdeen Associates stated: "For over a decade we have been providing communications and government relations services to clients across the country. With social media now a must-have for B2B and B2C markets, we wanted to update our website to reflect more fully our work in those areas as well. We had a lot of fun building this site and hope that sense of fun come through to the user."
Aberdeen Associates, Inc. is a full-service communications and government relations firm based in Greenwich, Connecticut. Aberdeen's model is built on strategically applying specific talent to match each client's precise needs using an appropriate scale of resources. They work closely with their clients to tailor solutions that are cost effective and goal driven. Aberdeen's clients gain an experienced, talented, highly focused team using less company resources. Fewer resources; more accomplishments.
Our perspective is unique. From writing and reporting the news to working inside Capitol Hill, the White House, campaigns and corporations, to building our business for over ten years ... we understand what it means to be on the inside and that makes Aberdeen better.