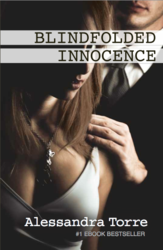 "Self-publishing puts the future of the book in the hands of the readers."

- Alessandra Torre
DESTIN, FL (PRWEB) March 26, 2013
When Alessandra Torre started toying with the idea of writing her first novel, she'd already read Fifty Shades of Grey. Realizing the book's enormous popularity had spawned an entire new crop of erotica fans who could enjoy reading steamy scenes on e-books in private, she decided to write her own sexy romance novel titled Blindfolded Innocence. As the book quickly rose to the top of the charts on Amazon, major publishing houses took notice as well as sexual health expert Dr. Laura Berman, who proclaimed it a "must read" for fans looking for a fix after Fifty Shades of Grey.
Currently available on Kindle, iBookstore and Nook, Blindfolded Innocence will be available in print through Harlequin Publishing in late 2013. Delighted that her first book resonated so quickly with fans, Torre (http://www.alessandratorre.com) is hard at work on a sequel, Masked Innocence, that will continue to explore a legal intern's sexual awakening. However, while fans impatiently wait to see what happens to their favorite Blindfolded characters, Torre is releasing an exciting, erotic thriller on April 17.
Titled On Me, In Me, Dead Beneath Me, Torre says the book has unexpected plot twists that will keep readers guessing, and she's not worried that fans may think it's a dramatic departure from her Blindfolded trilogy.
"Blindfolded is a romance and fans find themselves rooting for the main characters," she said. "On Me, In Me is not a romance, but an exciting, sexy thriller that will capture the interest of erotica fans in an entirely new way."
Torre is one of the few breakout success stories in self-publishing and has learned valuable lessons from the experience. While she's happy to be working with a mainstream publisher, she will continue to self-publish some select titles like On Me In Me, as it allows her to set her own agenda and maintain control over the content. With Blindfolded Innocence, she achieved commercial success; watching her book sales climb from 10 or 20 per day to thousands per day.
"Self-publishing puts the future of the book in the hands of the readers. Their feedback and word-of-mouth referrals are crucial to make a book successful," said Torre, who regularly interacts with her fans on Facebook, Twitter, Pinterest and forums such as goodreads.com. "It's a good way to find out what readers like or don't like about my books."
For more information, book reviews or to interview Alessandra Torre, call (561) 371-9407.