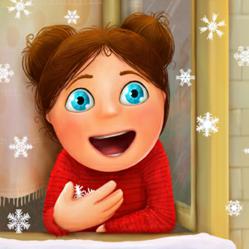 The Parents' Choice Awards program recognizes superior products developed for children of different ages and backgrounds.
Oakton, VA (PRWEB) March 22, 2013
AppTalia's The Tale of a Snowflake has been designated a 2013 Parents' Choice Award winner in the Mobile Apps category by Parents' Choice Foundation, "the nation's oldest nonprofit guide to quality children's media and toys."
Developed for children ages 3 to 9, the interactive children's app received a Parents' Choice Recommended Seal, which indicates that in addition to approving the product, the voting committee thoroughly recommends it "for reasons of production, appeal, and fulfillment of its clear intent."
The Tale of a Snowflake teaches children about the three phases of the water cycle—evaporation, condensation, and precipitation—through the use of a narrative, coupled with interactive features. A water molecule with a childlike voice narrates her journey from the ocean to the sky and back down to earth as a snowflake. She explains that her journey is never ending, as the circulation of water has gone on for billions of years, and it will continue when she melts and evaporates again. Children can catch a snowflake, move the sun to cause evaporation, touch clouds to make it rain and snow, and make snow fall from trees.
"Less than 20 percent of the products submitted to the program receive any level of commendation," says Rashin Taheri, founder and CEO of AppTalia, "so we are very proud and honored to receive this award."
The Tale of a Snowflake can be heard in two languages, English and Persian, and can be played on an iPhone, iPad and iPod touch. It is available on the App Store.
About the Parents' Choice Awards
The Parents' Choice Awards program recognizes superior products developed for children of different ages and backgrounds, and of varied skill and interest levels. A nonbiased panel—composed of parents, librarians, educators, scientists, performing artists, and children—votes on material in ten different categories. The evaluation process is comprehensive, with a four-page questionnaire that helps panel members assess a product's content, design, function, and educational and long-term play value, as well as its impact on a child's social and emotional growth and well-being.
About AppTalia
AppTalia provides fun, educational, multilingual apps for children around the world. The company focuses on science topics and includes two or more language options in all of its apps. Based in Oakton, Virginia, AppTalia's apps are available in the Apple Apps Store, Google Play, Amazon Appstore, and the Nook Book Store. To find out more, please visit http://www.apptalia.com.
Contact:
Rashin M. Taheri
AppTalia
10917 Justin Knoll Road
Oakton, Virginia 22124
info(at)apptalia(dot)com
703-262-0095