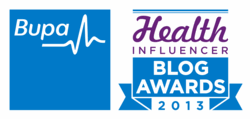 (PRWEB) March 22, 2013
The awards, announced at the weekend's Healthivate blogger conference in Sydney, encourage bloggers and their readers to nominate uplifting blogs in one of six categories: healthy lifestyle, health eating, family time, positive life change, personal development/self care, and social good.
Bupa's Media and Corporate Communications Manager, Matt Allison, said bloggers were increasingly influential in consumer health and wellbeing.
"We understand that more and more Australians are looking to bloggers for inspiration and motivation when it comes to healthier lifestyles because, by and large, bloggers are people they can relate to.
"We know it's the small, consistent and often inconvenient things that are the hardest to maintain. And as a health partner, we believe it's really important to acknowledge people who demonstrate an ongoing effort to sharing their experiences and inspiring others to make positive life changes.
"Bupa is committed to helping more Australians to become healthier and happier and the Bupa Health Influencer Blog Awards is a part of this," said Matt.
The awards will run for three months, until 30 May 2013, and are both self and peer nominated. The judging panel includes health advocate and blogging expert Kathie Melocco; body+soul editor Gemma Sutherland; Bupa chief medical officer Dr Paul Bates; and Bupa health ambassador and Olympic swimmer Matt Welsh.
Kathie Melocco won the United Nations Award for Communicating Priority Health Issues Award and is the convenor of Healthivate – a health activist bloggers conference.
"I'm passionate about digital and how by working with community leaders, bloggers and tweeters we can educate and empower others about important health issues. Grassroots word of mouth is the most potent way to bring about behavioural change in health communication," she said.
Winners of each category will receive an Apple iPad* and the opportunity for their blogs to be highlighted in Bupa's Shine magazine, which is distributed to millions of Bupa members. One overall winner will also receive $5000 to spend on improving their health, happiness and wellbeing.
Bupa has already established blogosphere credentials: in 2012 it hosted a blogger event in partnership with Lifeline to raise awareness about stress management for Stress Down Day, and has engaged with family bloggers to make small changes for the better as part of the Bupa Family Challenge.
For more information visit http://www.bupa.com.au/BlogAwards and watch the video

Apple, iPad, iPhone, iPod and iTunes are trademarks of Apple Inc.,registered in the U.S. and other countries.
@BupaAustralia
#BupaBlogAwards