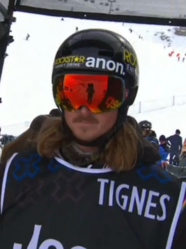 It feels amazing. First-ever X Games finals and a gold medal. I can't believe it.
Salt lake City, UT (PRWEB) March 21, 2013
Salt Lake Community College student McRae Williams won a gold medal in the X Games Men's Ski Slopestyle finals in Tignes, France.
Williams a 22 year-old Salt Lake City resident was victorious in his first trip to an X Games final. "It feels amazing. First-ever X Games finals and a gold medal. I can't believe it," Williams said.
Williams winning effort included a second run score of 94.33. He defeated silver medalist Jossi Wells from New Zealand bronze medalist Gus Kenworthy of the United States.
The Winter X Games Tignes is an international sporting event that consists of men's and women's slopestyle and superpipe competitions for skiers and snowboarders. One of the X Games' most popular events, slopestyle is an event that judges contestants on both the difficulty of the tricks they perform and the amplitude of their jumps. Competitors are rewarded for including a variety of tricks and penalized if the tricks performed are too similar. Slopestyle originated as a snowboarding competition.
Slopestyle, for both skiing and snowboarding will become an Olympic event at the 2014 Winter Olympics in Sochi, Russia.
About the College: Salt Lake Community College is an accredited, student-focused, urban college meeting the diverse needs of the Salt Lake community. Home to more than 62,000 students each year, the College is the largest supplier of workforce development programs in the State of Utah. The College is the sole provider of applied technology courses in the Salt Lake area, with 13 sites, an eCampus, and nearly 1,000 continuing education sites located throughout the Salt Lake valley. Personal attention from an excellent faculty is paramount at the College, which maintains a student-to-teacher ratio of less than 20 to 1.
# # #