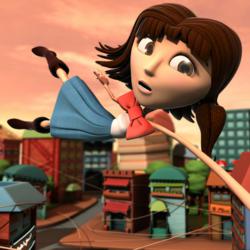 With Qube!, our staff gets a product that is easier to use and our students get something they can count on during finals week. It was an upgrade that paid off right away.
Los Angeles, CA (PRWEB) March 22, 2013
Free is great until system crashes become more common than polished renders. New York's Fashion Institute of Technology learned this lesson the hard way after entrusting its render queue to free render farm management solutions. These systems were unable to provide the reliability required to produce quality animations and images for its students' thesis projects, leading the Computer Animation and Interactive Media department to a solution that would: PipelineFX's Qube!™.
With a remote server and a linked network of HP workstations, the department's render farm is something of a modest workhorse. They power it up and render out student projects – which can be everything from 1-3 minute 3D/handdrawn animations to interactive content – and that's it. To achieve this simple, but weighty aim nowadays, the department filters all Softimage-created assets through Qube! as it provides the consistency and world-class tech support they couldn't get with RenderQ or Softimage Batchserve.
"As we improved our hardware, we found ourselves needing a better software package to increase the reliability of our render farm," said Eric Kaplan, technical associate at FIT. "With Qube!, our staff gets a product that is easier to use and our students get something they can count on during finals week. It was an upgrade that paid off right away."
The added efficiency of a Qube!-managed system freed the department from more than just crashing systems during go-time, it also gave the IT staff back their nights. "Hands down, our favorite feature is the ability to remotely manage and track jobs," added Kaplan. "We no longer need students or an administrator to stay overnight to watch the output. Qube! does it for us, and if one job fails, Qube! automatically switches it to another server. It's the backbone of the BFA program!"
"Even for smaller organizations, Qube! can have a big impact," said Richard Lewis, CEO of PipelineFX. "Schools, just like studios, want to trust that their software will do what it's supposed to do. They can count on Qube!"
About Qube!™ and Smart Farming™
Qube! is an intelligent, mature and highly scalable render management solution that can be quickly integrated into any production workflow, and is backed by world-class technical support. Smart Farming delivers intelligence to production pipelines by providing business-critical insight into render pipelines, maximizing investment in rendering infrastructure and automating manual processes. Qube! works out of the box with all leading content creation applications and is truly cross-platform with all software components available on Windows®, Linux®, and Mac OS®X operating systems.
About PipelineFX
As the leading provider of intelligent render farm management solutions for digital content creation, PipelineFX provides software, support, consulting and training services worldwide. Over 25,000 render nodes at more than 600 customers across film and visual effects, post production, broadcast, design, games and education include Arc Productions, BaseFX, BBC, Cinesite, Deluxe, Digital Domain, Dyson, Efilm, Electronic Arts, Google, HBO, Hasbro, L.M.U., Laika Studios, Lockheed Martin, Method Studios, NBC Sports, Nvidia, NHK, Original Force, Prana Studios, Pratt University, Procter & Gamble, ReelFX, South Park Studios, Target, Technicolor, and Telemundo. PipelineFX is headquartered in Los Angeles, CA, and has offices in London, Honolulu, Portland, Las Vegas, and Vancouver.
About the Fashion Institute of Technology
The Fashion Institute of Technology – based in New York City – offers one of the country's most comprehensive curricula for a Bachelor's program in Computer Animation and Interactive Media. Students receive a solid foundation in 3D modeling and animation through a sequence of courses that culminate in a real-world production environment. Course topics include: scripting, storyboarding, modeling, rigging, animation, lighting, camera, compositing, sound editing, music, and effects. Students can also expect to be involved in designing user experiences using programming logic and data structures, as well as video, for more complex web-based projects and games.