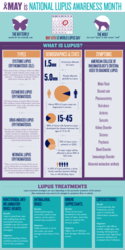 "Sustained, dependable, long-term growth in NIH-funded medical research brings the promise of new knowledge and technologies in pursuit of cures for patients."

-Dr. Richard Furie
Birmingham, Alabama (PRWEB) March 25, 2013
*Achieve Clinical Research conducts Clinical Trials in Birmingham, Al. For more information about getting started with a Lupus Clinical Trial, please visit our website or contact us directly at (205) 380-6434
BACKGROUND AND RATIONALE FOR STUDY
Systemic lupus erythematosus (SLE) is a chronic autoimmune disorder characterized by autoantibody production and abnormal B lymphocyte function. The etiology of SLE is unknown, although genetics, sex hormones, and environmental conditions are thought to play a role. This disease is more common in women (~90% of patients) than men and more prevalent in African-Americans than Caucasians.
In the United States (US) the reported prevalence is 100,000 to 500,000 patients with some estimates of 1 million as the incidence increased 2-3 fold between 1950 and 1979. In the European Union (EU), prevalence rates have been reported ranging from 25 to 39 cases per 100,000 persons. The disease onset is generally between the ages of 20 and 40 years. Patients with SLE have about a 3-fold greater risk of mortality than the general population.
Approximately 70% of SLE patients survive 20 years from time of diagnosis, SLE can lead to arthritis, kidney failure, heart and lung inflammation, central nervous system (CNS) changes, vasculitis, severe skin rash, and blood dyscrasias such as anemia, leukopenia, and thrombocytopenia.
The manifestations of SLE vary from patient to patient and it may take many years to render the proper diagnosis. The American College of Rheumatology (ACR) criteria that define a diagnosis of this heterogeneous disease require 4 of 11 criteria that include SLE-associated signs or symptoms, lab abnormalities, and the presence of specific anti-nuclear autoantibodies. More funding for Lupus Research is helping to provide remedies for this disease.
OBJECTIVES

To evaluate the efficacy of belimumab in adult SLE subjects of black race.
To evaluate the safety and tolerability of belimumab in adult SLE subjects of black race.
DIAGNOSIS & INCLUSION CRITERIA
Subjects enrolled in the study must meet the following inclusion criteria:
1. Are at least 18 years of age.
2. Are of self-identified black race.
3. Have a clinical diagnosis of SLE according to the American College of Rheumatology
4. Have active SLE disease defined as a SELENA SLEDAI score ≥ 8 at screening.
5. Have unequivocally positive autoantibody test results defined as an ANA titer ≥ 1:80 and/or a positive anti-dsDNA (≥ 30 IU/mL) serum antibody test from 2 independent time points as follows:
Positive test results from 2 independent time points within the study screening period. Screening results must be based on the study's central laboratory results.
OR
One positive historical test result and 1 positive test result during the screening period.
Historical documentation of a positive test of ANA (eg, ANA by HEp-2 titer) or anti-dsDNA (eg, anti-dsDNA by Farr assay) must include the date and type of the test, the name of the testing laboratory, numerical reference range, and a key that explains values provided as positive vs negative OR negative, equivocal/borderline positive). Only unequivocally positive values as defined in the laboratory's reference range are acceptable; borderline values will not be accepted.
6. Are on a stable SLE treatment regimen consisting of any of the following medications (alone or in combination) for a period of at least 30 days prior to Day 0 (ie, day of 1st dose of study agent):
Corticosteroids (prednisone or prednisone equivalent, up to 40 mg/day):
For subjects on SLE combination therapy, their stable steroid dose must be fixed within the range of 0 to 40 mg/day (prednisone or prednisone equivalent).
For subjects whose only SLE treatment is steroids, their stable steroid dose must be fixed within the range of 7.5 to 40 mg/day (prednisone or prednisone equivalent).
For those subjects on alternating day doses of steroids, use the average of 2 daily doses to calculate the average daily steroid dose.
Other immunosuppressive or immunomodulatory agents including methotrexate, azathioprine, leflunomide, mycophenolate (including mycophenolate mofetil, mycophenolate mofetil hydrochloride, and mycophenolate sodium), calcineurin inhibitors (eg, tacrolimus, cyclosporine), sirolimus, oral cyclophosphamide, 6- mercaptopurine, mizoribine, or thalidomide.
Anti-malarials (eg, hydroxychloroquine, chloroquine, quinacrine).
Non-steroidal anti-inflammatory drugs (NSAIDs).
7. A female subject is eligible to enter the study if she is:
Not pregnant or nursing;
Of non-childbearing potential (ie, women who had a hysterectomy, are postmenopausal which is defined as 1 year without menses, have both ovaries surgically removed, or have current documented tubal ligation or any other permanent female sterilization procedure); or
Of childbearing potential (ie, women with functional ovaries and no documented impairment of oviductal or uterine function that would cause sterility). This category includes women with oligomenorrhoea [even severe], women who are perimenopausal, or have just begun to menstruate.
These women must have a negative serum pregnancy test at screening, and agree to 1 of the following:
Complete abstinence from intercourse from 2 weeks prior to administration of the
1st dose of study agent until 16 weeks after the last dose of study agent; or
Consistent and correct use of 1 of the following acceptable methods of birth control for 1 month prior to the start of the study agent, during the study, and 16 weeks after the last dose of study agent.
8. Have the ability to understand the requirements of the study, provide written informed consent (including consent for the use and disclosureof research-related healthinformation), and comply with the study protocol procedures (including required study visits).
For information about how to participate in a Lupus clinical trial, visit Achieve Clinical Research or contact us directly at (205) 380-6434