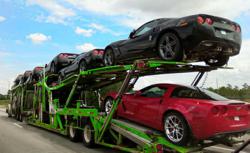 No one should have to stress over a long drive ever again. Car shipping services are more popular than ever. - Ryan Pratt - President of N-Motion Auto Transport
Los Angeles, Ca (PRWEB) March 23, 2013
N-Motion Auto Transport is now sending more trucks back and forth to Los Angeles, California to alleviate some of the headaches associated with driving and the ever increasing fuel costs.
The spring and summer months are usually the most highly traveled times of the year due to the nicer weather, whether it is for vacation or for business. During this time of year, people are also moving to new locations to begin new lives. With that said, there is much stress that goes along with the whole moving process. Hiring a household moving company is step one. Step two is hiring an auto transport company to handle the safe transit of the family vehicle. With the inflation of gas prices and vehicle maintenance, car shipping is most definitely the way to go. Step three would be to get online and get a great deal on summer air fare tickets. Many airline companies are in competition for your business, so they are all offering some sort of incentive to go with them. Southwest Airlines, for instance, is offering great deals to destinations all over the nation.
New Car Transport to and from Los Angeles
Everyone needs a getaway sometimes, that is just the plain truth, but don't compromise the relaxing escape by having to drive around in some rental car the entire time. Rental cars do not offer the comfort and security like the car sitting in the garage at home. Consumers put a lot of thought and time into picking out the second largest purchase of their lives, so they are very valuable commodities, not only monetarily but also sentimentally. N-Motion Auto Transport suggests taking advantage of their newly upgraded auto transport services instead. There are many positives that come out of using such services; money saved and more importantly safety.
Why Choose Auto Shipping Services over a Nice Road Trip?
First off, the most money can be saved by auto transport vs. driving if an accident were to happen. How can this be? Let's say someone chooses to drive their vehicle cross-country instead of shipping it and the car is either damaged by another driver without insurance or is damaged by road hazards, who's going to pay for this? Now, with the same scenario, if that vehicle is on an auto transport trailer and damage occurs, then the transport company's driver will pay for repairs. Nice and simple!
Los Angeles Car Shipping Services
Los Angeles is full of fun things to do and is a city that is very close to many other popular areas of the nation, but sometimes business gets in the way of leisure. Corporate relocation is a common thing in America and is not always something that is easy on a family. By increasing the number of trucks running to and from Los Angeles, California, N-Motion Auto Transport has made it a much simpler process to get vehicles moved via car hauler.
With this information in mind it's clear to see which option is best. Remember, a vehicle is not just a means of transportation, but rather an investment that should be kept safe by choosing a vehicle shipping service.
About N-Motion Auto Transport
N-Motion Auto Transport is the nation's premier car shipping company for several years of experience in the automotive industry. From multi-national corporations and dealerships to the everyday consumer, N-Motion Auto Transport handles the movement of thousands of car shipping deals on a yearly basis - while never comprising its commitment to unmatched quality and seamless auto shipping customer service.
For more information on Los Angeles car shipping services, contact N-Motion Auto Transport at 1-855-407-4160 or visit them on the web at http://www.NMotionAutoTransport.com