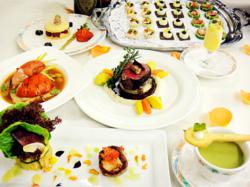 Chef Adam Gilbert showcases Spring's freshest and finest ingredients, found locally and around the world...
Honolulu, Hawaii (PRWEB) March 22, 2013
Hawaii's largest, award-winning tour vessel, the Star of Honolulu, offers a seven-course Spring-inspired menu from April through June on its signature Five Star Sunset Dining & Jazz Cruise.
Chef de Cuisine Adam Gilbert showcases Spring's freshest and finest ingredients, found locally and around the world, in an innovative yet classic French style feast. At the exclusive Captain's Welcome Reception on the STAR's 60-foot-high top deck, guests sample a selection of Spring canapes served butler-style and a Hawaiian Bellini to commence the evening. They are then escorted into the lavish, newly renovated Art Deco Super Nova room, where a refreshing English pea soup is presented, accompanied by a savory spoon-shaped tuile to fold in lemon yogurt and mint for enhanced taste and texture. The subsequent salad includes Maui Romaine and other Spring greens held together with grilled pineapple slices, and a prosciutto-wrapped seared scallop topped with blood orange capsules, dressed with pineapple vinaigrette and chive oil.
Featured in the first main entree is a live Maine lobster poached in a season-infused butter broth. It is paired with an agnolotti filled with fava beans, baby corn and chanterelle mushrooms, lobster fumet and Tsar Nicoulai caviar. Next, to dazzle and cleanse the palate, savor a mango lime sorbet intermezzo. The second main course showcases a top grade of meat, prime tenderloin of beef, premium aged and highly marbled for intense flavor that melts in your mouth. This succulent selection is complemented by a truffle-brushed crostini, sunburst squash, saffron-poached potatoes, tournade carrots, bordelaise demi sauce and seared foie gras.
The evening comes to a sweet ending with a lemon curd macaron layered with fresh raspberries. Ground pistachio nuts, fresh fruit and Tahitian vanilla anglaise sauce finish the plate.
On the Star of Honolulu's Five Star Sunset Dining & Jazz Cruise, the ambiance is as memorable as the food. Live Jazz music by some of Oahu's top artists creates a relaxing and refined atmosphere. Throughout the voyage, wrap-around windows offer stellar sunset and coastline views.
The Five Star Sunset Dining & Jazz Cruise is offered nightly, departing from Pier 8 at Aloha Tower Marketplace at 5:30 p.m. All-inclusive VIP welcome, dinner, live Jazz show, super premium beverages and after dinner cart drink service, is $184.00 per person. Round-trip private stretch limousine and motorcoach transportation from the Waikiki area is also available for an additional $65.00 and $12.00 per person, respectively.
The 1,500-passenger Star of Honolulu was custom-built with three types of stabilizers for smooth sailing in Hawaiian waters. In addition, the STAR is Hawaii's only A.D.A. compliant ship. For reservations or more information, please call toll-free at 1-800-334-6191 or visit http://www.starofhonolulu.com. In Hawaii, dial (808) 983-STAR (7827).