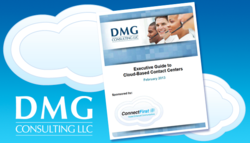 We want to give people the best information possible and prepare them for this rapidly growing market.
Boulder, Colorado (PRWEB) March 22, 2013
The cloud contact center industry is expected to reach the billion dollar mark in 2014 and keep growing by a steady 11.6% each year after. DMG Consulting in partnership with Connect First, a cloud communications firm, has produced an informative guide called, The Executive Guide to Cloud-Based Contact Centers. This companion breaks down the major factors driving the adoption of cloud-based contact centers.
Some of the key points that the report focuses on are:
>How premise-based solutions compare to cloud-based solutions.
>The benefits of moving to a cloud-based solution.
>Core cloud-based contact center infrastructure.
>Essential functionality of a cloud solution.
>Top contact center Key Performance Indicators.
The recession continues to drive organizations in a wide range of industries to migrate their contact center systems to the cloud. According to DMG Consulting, more than 18 percent of all contact centers in the U.S. will be cloud-based by 2015 — and the firm cautions that this is probably a conservative estimate. Connect First CEO, Geoff Mina commented, "We want to give people the best information possible and prepare them for this rapidly growing market. This paper is just the thing to do that."
Connect First, Inc. is a privately held cloud contact center solutions company hailing out of Boulder, Colorado. Their primary focus is on providing the most scalable and agile contact center solutions, including ACD, IVR, and Cloud Routing, while providing passionate, in-house customer service. The organization also prides itself on sharing thought-provoking industry content through their Resource Library. The Executive Guide to Cloud-Based Contact Centers is a benchmark paper meant to give anyone insight into the cloud contact center market.
DMG Consulting and Donna Fluss have been analyzing the cloud-based contact center infrastructure market since 2008. They are an independent research, advisory and consulting firm whose mission is to help their clients build world-class contact centers.
About Connect First: Connect First is an award-winning SaaS telecommunications and cloud contact center software provider that focuses on customer satisfaction and elegant hosted solutions. Connect First offers a robust platform, designed and supported by a team of highly experienced engineers, designers and business analysts, and backed with personalized in-house customer care.  Solutions include Cloud Routing, Inbound ACD, Outbound Dialing, Call Tracking, Interactive Voice Response (IVR), Voice Broadcast, Disaster Recovery, Predictive Dialer, Real-Time Telemetry, CDR Reporting, Live Agent Chat and more. Through a consultative approach with each customer interaction, Connect First builds customized solutions to meet the needs of a discerning customer base. Visit http://www.connectfirst.com for more information or a free consultation with a contact center solutions expert.