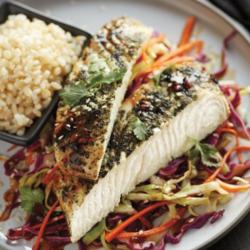 Juneau, Alaska (PRWEB) March 22, 2013
Alaska's wild halibut and black cod (sablefish) harvest season opens tomorrow, March 23, 2013. Statewide Total Allowable Catch (TAC) limits for Alaska halibut and black cod are set at over 23 million pounds and 35 million pounds respectively. Alaska is home to over 95% of the Pacific halibut and over 65% of the black cod harvested in the United States.
Alaska halibut and black cod are two delicious whitefish choices. The largest of all flatfish, Alaska halibut is prized for its mild, sweet flavor, firm texture, and spectacular results whether grilled, roasted, sautéed, or poached. Alaska black cod offers a beautiful snow-white fillet, perfect flake, velvety texture, and incredible succulence. With high oil content, Alaska black cod is ideal for smoking, roasting, broiling, and sautéing.
Like all species of Alaska seafood, Alaska halibut and black cod are wild and sustainable, as mandated by the Alaska constitution. The inclusion of sustainability language in the state constitution sets Alaska apart from every other state in the nation, and Alaska's fishery management practices are considered a world model.
The International Pacific Halibut Commission (IPHC) is responsible for setting the annual halibut harvest limit for both Canada and the United States based on stock assessments and halibut biology. The North Pacific Fishery Management Council (NPFMC) then makes allocative decisions based on that quota. In the Alaska black cod fisheries, the NPFMC reviews the harvest limits for federal waters while the state of Alaska manages the fisheries in state waters.
About Alaska Seafood
The Alaska Seafood Marketing Institute (ASMI) is a partnership of the State of Alaska and the Alaska seafood industry. ASMI works to promote the benefits of wild and sustainable Alaska seafood and offer seafood industry education.
As part of that mission, ASMI has created Wild Alaska Flavor, a new immersive website that takes visitors on a tour of everything Alaska seafood. From species profiles, to recipes and cooking videos, to information on sustainability and fishermen profiles, Wild Alaska Flavor serves as a gateway to Alaska and the delicious and healthy role Alaska seafood can play in your kitchen.
For more than 50 years, Alaska has been dedicated to sustainable seafood. It's so essential to our way of life that our constitution mandates seafood be harvested on the "sustained yield principle" to ensure our fisheries and surrounding habitats will thrive for generations to come. We're proud of our leadership in sustainable management, which has led to an abundant supply of wild seafood for markets around the world. For more information, please visit http://www.alaskaseafood.org or http://www.wildalaskaflavor.com.