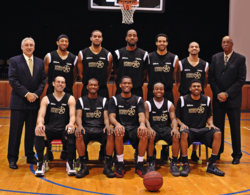 On Friday the team will attend the NCAA Tournament games in Austin, Texas, where Assistant Coach Nevil Shed and members from the Texas Western's 1966 National Championship Team will be honored by the NCAA
San Antonio, TX (PRWEB) March 22, 2013
Under the captain-ship of stand out point guard Marcus Edward Hill, the American Basketball League's Lonestar Law are undoubtedly living up to their epithet by proving themselves court general's over their competition— a feat which has placed their numbers in prime position in the Lone Conference. Currently they're tied for second with the Sugarland Legends after beating the number one team the Twin City United. If they keep harnessing the "W," every time they're on the court, they'll drive their winning streak all the way to the ABL Four Games in April, which will take place in Florida.
Lonestar Law Head Coach Caesar Cervantes along with Assistant Coach Nevil Shed, have been grooming 'Law' players to own the court and bring acute wisdom to their ball playing acumen. On Friday the team will attend the NCAA Tournament games in Austin, Texas, where Assistant Coach Nevil Shed and other team members from the Texas Western's 1966 National Championship Team will be honored at half time as part of the "The Top 75 Moments in NCAA History." Texas Western's accomplishment is ranked #3.
Apart from dominating the gymnasium, 'The Law' has also been yielding their energy towards causes that are close to the team's heart. Through their community initiative arm, during Black History Month the team spoke with the children at the Luna Middle School and played in a game against the staff. Recently, during Spring Break holiday the team visited the Boys and Girls Club of San Antonio to impart support to their community proving that they're general's both on and off the court.
The Lonestar Law play their final season game next Wednesday at home in San Antonio. For More Information: http://lonestarlaw-ablhoops.leaguetoolbox.com
###
About the Lonestar Law:
The Lone Star Law are the premiere professional basketball team of Hill Country Texas. Owned by Law Investment Group LLC, the Law strive to be a positive influence in the community, and offer the chance for people to enjoy professional basketball at its finest. They are apart of the American Basketball League.
Contact:
Alaina L Lewis, Publicist
info(at)electricheartmedia(dot)com
612.267.5959
http://www.electricheartmedia.com