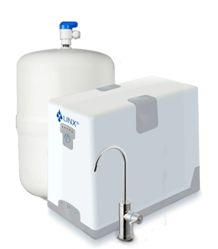 Consider this, the water your RO wastes is tap water that has been treated using your tax dollars, then purchased by you the homeowner, only to be flushed down the drain by your RO, without ever having been used.
San Carlos, CA (PRWEB) March 22, 2013
On World Water Day, the world is thinking about water availability, water contamination, and water rights. This year's theme, 2013: International Year of Water Cooperation, reminds consumers that water is a shared resource and water management must take into account a wide variety of conflicting interests.
LINX Drinking Water Systems enable consumers to have safe and healthy Reverse Osmosis (RO) quality water – but wastes 33 times less water than RO, depending on feedwater conditions. H. Martin Jessen of Pionetics Corporation states, "We've seen a large uptick in water conservation efforts recently in California, Nevada, Arizona, Texas and other areas faced with particularly hard droughts. Our LINX Drinking Water Systems have been popular in communities where RO systems are becoming an impractical solution."
"Consumers need to know the truth; ROs waste water," emphasized Jessen. "With many communities facing diminishing water sources and increasing groundwater contamination, the cost of providing a safe and sustainable water supply is increasing. Consider this, the water your RO wastes is tap water that has been treated using your tax dollars, then purchased by you the homeowner, only to be flushed down the drain by your RO, without ever having been used. The water wasted is both an environmental and economic hardship."
Mr. Jessen continues, "In addition to reminding consumers about water sustainability, World Water Day also reminds consumers to think about water contamination and water safety standards in their areas."
There are approximately 161,000 public water systems in the United States. Of those, an alarmingly high number have recently reported violating maximum contaminant levels or treatment standards. For example, in 2011, 17% of Nevada's community water systems have been in violation, 23% of Nebraska's community water systems have been in violation, and 18% of Idaho's community water systems have been in violation. In California, there are 680 community water systems that are forced to rely solely on a contaminated groundwater source. Nearly 40% of these water treatment systems have been in violation of contamination according to the California Department of Public Health.
Cost is the primary cause for these violations listed here. Providing safe drinking water via centralized treatment facilities, especially in small rural communities, is cost prohibitive. The costs to plan, build, execute, and maintain centralized treatment facilities are an unmanageable burden for some municipalities. LINX Drinking Water Systems provide can provide consumers with affordable, safe and healthy, RO-quality water without the water waste.Click here to see a list of contaminants removed by LINX Systems.
One of the most common contaminants consistently seen in these violations is nitrate contamination. Nitrates are nitrogen-oxygen chemical units which combine with various organic and inorganic compounds and commonly enter drinking water through fertilizer use, septic tank and sewage leaks, and the erosion of natural deposits. Excessive nitrate exposure is known to cause serious illness and sometimes death. In children, nitrate exposure interferes with the blood's oxygen-carrying ability, resulting in shortness of breath and blueness of the skin. Long-term exposure can lead to diuresis, increased starchy deposits, and hemorrhaging of the spleen. The new LINX 160 was recently tested to reduce Nitrates and Nitrites to Non-Detect levels – virtually eliminating these contaminants. To see how this technology works, see our video on YouTube.
LINX Drinking Water Systems are offered through Authorized Dealers in two under-the-sink models or as a bottleless water cooler. Both systems offer features not possible in any other drinking water technology on the market today:

Dramatically less water waste than Reverse Osmosis systems - see our video Insane Water Waste
Operates using "smart" software and display lights that communicate detailed system status to the consumer
Dial-A-Taste® Control that allows the consumer to adjust the mineral content and taste of the drinking water produced.
Reliable drinking water quality due to the "smart feature" of the system's computer that adjusts the filtering process in response to the feed water quality.
Field Service Assistant which enables the technician to reprogram the LINX unit based on feedwater quality, further optimizing water recovery rates, customizing the system's performance, and maximizing effectiveness and efficiency.
Simplicity of installation and servicing of the equipment.
LINX technology uses an ion exchange process, but uses electricity for regeneration rather than chemicals. LINX systems are controlled by programmable software that allows consumers to adjust the system to produce the water taste they prefer all while conserving water. To learn more about this technology, visit the company website at http://www.LINXWater.com.
Pionetics is currently signing new distributors. Anyone interested in becoming a distributor anywhere around the world - should contact H. Martin Jessen at 480-836-0887.
About Pionetics Corporation:
Pionetics is an innovative water technology company that develops smart water treatment products that deliver great tasting, safe drinking water with less waste than traditional water treatment systems. Pionetics is privately owned and financially backed by Kline Hawkes & Co., NGEN Partners, and Unilever Technology Ventures Fund.
Pionetics is located in San Carlos, CA. To date, Pionetics has been issued over 50 patents worldwide to protect its proprietary know-how and innovative technology.