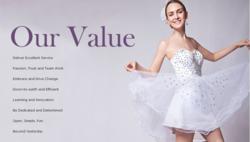 Some customers always said our dresses look like those they paid thousands.
(PRWEB) March 22, 2013
Today, XDresses.com, a professional Quinceanera dresses supplier, launched its Cheap Quinceanera Dresses collection, and offers 50% discount for the USA Market. According to Sherri Wang, CEO of the company, the promotion is valid for any order before Apr. 10, 2013.
This company's dresses feature high-quality fabrics, exquisite embroidery, fine sparkling beads, and proper ruching. There is no exception for this new collection. Their design team has embedded the most recent trends in these new dresses, and they hope to use its vast knowledge of consumer needs and craftsmanship to enhance purchasing experience.
"I am very excited to introduce this new collection to our loyal customers. Our company has obtained many positive comments for the quality and beautiful Quinceanera dresses in the past years, and there is no exception this time," says, Sherri Wang. "The new Quinceanera Dresses come in various colors and styles. Some customers always said our dresses look like those they paid thousands."
She continues, "The USA market is the most important market for our company, and we are happy to see faster growth of our business there. Now, it is the right time to give something back to our customers. Any one who wants to buy cheap Quinceanera dresses or cheap prom dresses can spend a few minutes browsing through our new collection. We offer vibrant color options to allow each girl to be creative and playful with the planning for their big celebration. We are trying to offer customer more choices with affordable price."
About XDresses.com
Founded in 2006, XDresses.com is a reliable online store for Quinceanera dresses, high low prom dresses, maternity wedding dresses, and more. XDresses.com accepts customer's own design, and provides custom service. The company is providing the customers worldwide a wide range of products at acceptable low rates.
More details can be found at: http://www.xdresses.com