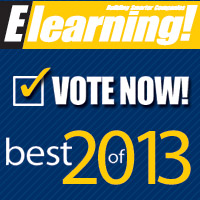 Readers can see which products are leaders in each category, and read personal testimonials from real-world users of the winning products
San Diego, CA (PRWEB) March 22, 2013
Elearning! and Government Elearning! magazines, the industry voice of the $160 billion enterprise learning market, are inviting readers to nominate their solution providers for its Best of Elearning! Awards for 2013. In its ninth year, the Best of Elearning! Awards are the exclusive reader's-choice awards program for enterprise-wide learning products and services. Nominations of technology and solution providers can be made by going to http://www.b2bmediaco.com/fileadmin/php/BestofElearning_ballot_2013.html
The balloting period officially opens today and runs through May 1st, 2013. "The Best of Elearning! Awards program is the only reader's-choice awards in the market. This audience represents $160 billion in learning services and technology investment, and the awards program honors vendor excellence," reports Catherine Upton, Group Publisher of Elearning! and Government Elearning! magazines.
Eighty-five percent of Elearning! Media Group's respondents have recommended an e-learning product or solution over the last 12 months, according to an Elearning! survey. And, 61 percent of the respondents said award recognition impacted their decision to consider and/or purchase from honored vendors. The Best of Elearning! Awards formalize the informal peer recommendation process by publishing the recommendations of the e-learning users and honoring the "Best-in-Class" solutions. Every award nomination and vote comes directly from e-learning users and professionals.
The Balloting Process
Learning executives and professionals are invited to nominate their best-in-class technology and service providers online at: http://www.b2bmediaco.com/fileadmin/php/BestofElearning_ballot_2013.html
The open-ended online ballot notes the product categories only; no short-listing or pre-defined vendors are offered by the magazines in any category. Voters are limited to one complimentary ballot and must use a company domain e-mail addresses for validation. Nominations close on May 1, 2013 at 11:59 p.m. PST.
Determining the Winners
At the end of the nomination period, the ballots are counted by Elearning! and Government Elearning! magazines' editorial team. All vendor ballots are nullified, as well as duplicate, incomplete or invalid ballots.
"Readers can see which products are leaders in each category, and read personal testimonials from real-world users of the winning products," says Jerry Roche, Editorial Director, Elearning! Media Group.
"The Best of Elearning! Awards will continue to honor the best and the brightest among hundreds of solutions providers. We look forward to another opportunity to honor innovation in this dynamic industry," concludes Upton.
2013 Best of Elearning! finalists will be honored at the Enterprise Learning! Conference & Expo held August 26-28, 2013 in Anaheim, California. All honorees will be featured in the November/December 2013 awards issue of Elearning! and Government Elearning! magazines. Professionals source these issues, Websites and events when seeking best-in-class solutions.
ELCE 2013 is hosted at the Anaheim Convention Center, CA on August 26th – 28h, 2013. Executives from the top learning organizations will share their organizations best practices, case studies and research.
ELCE helps executives build smarter organizations. Executives can access more than 50 educational sessions focused on learning and workplace technology solutions and best practices. Home of the Best of Elearning! awards, attendees can also see, share and compare best-in-class solutions. ELCE is the exclusive learning and workplace technology showcase serving private and public sector executives.
ELCE registration opens March 27th with Super Early Bird rates saving attendees up to $800. To learn more about attending ELCE, visit at http://www.elceshow.com. For sponsorship or exhibitor information, contact sales(at)2elearning(dot)com or call 888-201-2841 x842.
About Elearning! Media Group
Elearning! Media Group is owned by B2B Media Group LLC. Elearning! Media Group consists of eleven media products including: Elearning! Magazine, Government Elearning! Magazine, e-magazines, e-mail newsletters, Alerts, Websites, Web seminars, the Enterprise Learning! Summit and Enterprise Learning! Conference & Expo. Elearning! Media Group serves the $160 billion e-learning market. Suppliers and practitioners can follow us: online at http://www.2elearning.com, http://gov.2elearning.com; on Twitter: 2elearning or #ELSummit; via Facebook: Elearning!-Magazine or LinkedIn: Elearning! Magazine Network or Elearning! Summit.
Enterprise Learning! Events
In it's sixth year, Enterprise Learning! Events bring onsite and online audiences together to learn, network and share. Mark your calendar for Enterprise Learning! Conference & Expo, the exclusive learning and workplace technology marketplace, August 26-28th, 2013 Anaheim, CA. Enterprise Learning! Conference & Expo hosts the Best of Elearning! Awards Luncheon and Learning! 100 Awards Dinner. For more information about the Enterprise Learning! Conference & Expo visit http://www.elceshow.com. The Enterprise Learning! Summit held March 21st, is now available on-demand online. View Summit sessions from your desktop at http://engage.vevent.com/index.jsp?eid=630&seid=1897