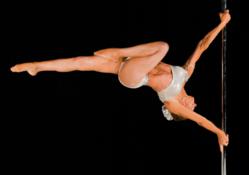 Don't let age or any limitation stand in the way of your dreams
Los Angeles, CA (PRWEB) March 25, 2013
Last weekend a 62-year old Southern California business woman turned competitive pole artist, Greta Pontarelli, landed two first-place wins in the Masters Championship and Artistic Divisions at the 2013 Pacific Pole Championship at the LA Convention Center in Los Angeles. Pontarelli had the audience on their feet with her electrifying performances and now takes on the challenge to represent the United States at the 2013 International Pole Championship (IPC) in Singapore this November.
Pontarelli took up pole sport less than three years ago in an effort to stave off osteoporosis and claims that after the first spin it became her passion. In 2012 that passion earned Pontarelli a first place win in the Masters Championship Division (40 years and older category) and a first runner up win at the 2012 Southern Pole Championships in the Masters Artistic Division. She also garnered first runner-up Master Division wins at the Pacific Pole Championships and the North American Pole Championship in 2012. Pontarelli says her best trick is to execute a handspring and go into an Iron-X on the pole, which demands extreme control and core muscles. Overall, it is her graceful, fluid motion and her ability to connect with the audience that sets her apart from the competitors. However, more important to her than her growing list of medals is that the stage presents an opportunity to inspire others to not let age or any limitation stand in the way of their dreams. Pontarelli is said to be the oldest internationally competitive professional pole champion in the world.
Last year, Pontarelli was contacted to audition for American Ninja Warrior and was featured on the show. According to the producers, she is the show's oldest competitor to date. Pontarelli says, "Never give up and always keep challenging yourself. Through my performance, I hope to motivate baby boomers, senior citizens and everyone to exercise, eat healthy foods and to continually try to become the best they can become. She shares her story in her video http://www.youtube.com/watch?v=pd5m771rwLc.
Pontarelli is a member of United Pole Artists, one of the presidents of the International Masters of Vertical Arts and is featured in the Age of Happiness Project. In 1997, Pontarelli established an international life coaching business to help empower others to create "a life that they would love to live." She won national awards as a martial artist in the 1970s. In her youth she competed nationally as a gymnast and was named the Pennsylvania Floor Exercise Champion. Find her on https://www.facebook.com/gretapontarelli or http://www.aerialzen.com to learn more about Pontarelli and her passion for pole sport.
The International Pole Competition, one of the world's most prestigious competitions, has collaborated with Mighty Grip Inc. to establish a contest to elect a 2013 IPC competitor by popular vote. Voters will have an opportunity to win a VIP trip to the event and Pontarelli will have a chance to make history as their oldest finalist . Visit http://www.aerialzen.com/competition to cast your vote and make your voice heard.