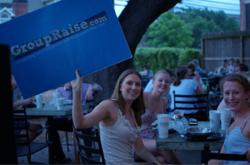 GroupRaise Causes is a way for people who might not traditionally donate to connect with causes they care about in a new, more social way.
Houston, TX (PRWEB) March 22, 2013
GroupRaise.com, the social fundraising platform looking to help people impact causes they care about at local restaurants, announced the launch of GroupRaise Causes today. GroupRaise Causes enables diners to organize meal fundraisers for featured charities that are working to solve problems in the five categories of Clean Water, Health, Education, Hunger, and Social Entrepreneurship in the developing world. Each of the featured charities can turn a relatively small amount of money into a huge impact in the lives of people around the world.
The first featured cause of the initiative, coinciding with World Water Day, is charity: water, a nonprofit that formed in response to the global water crisis in which 1 billion people around the world lack access to clean water. Charity: water builds wells in the developing world and 100% of public donations go toward these water projects. Charity: water is changing lives by reducing deaths from diseases caused by contaminated water.
GroupRaise Causes makes it easy for diners to support causes like charity: water by giving them online tools to bring together friends and family at local restaurants for meal fundraisers where a % of the group's meal goes to the cause. Each GroupRaise Meal for charity: water has the tangible impact of providing a family in need with clean water. GroupRaise has pledged to help charity: water provide clean water to 1,000 families in the developing world by enabling diners across the U.S. to organize meals for the cause.
"We believe impacting the charities you care about can be done in a fun and social environment and that GroupRaise Causes is a way for people who might not traditionally donate to connect with causes they care about in a new, more social way," said Founder/CEO Devin Baptiste.
GroupRaise Causes has a special emphasis on encouraging millennials to use their social connections and hunger to change the world by eating out at local restaurants. Millennials as a demographic eat out a lot, are very socially conscious, and are looking for easy ways to get involved that are more impactful than just liking a cause on Facebook. GroupRaise was created around the belief that giving back should be fun and social and that donating to a worthy cause can also entail getting together with friends and coworkers over a meal.
"As more charities are encouraging their donors to give up birthday presents in lieu of donations, we see GroupRaise Meals as a continuation of the birthday-for-a-cause movement as a way to host a birthday dinner with friends where a percentage of your meal goes back to the cause you care about. These kinds of GroupRaise Meal experiences can create giving opportunities for people in your social circle who might not have donated online but are willing to go out to eat with you for your birthday. Once friends have gone to your GroupRaise birthday dinner, they are often inspired to also donate online as they now feel a personal connection to the cause," GroupRaise Founder/CEO Devin Baptiste added.
GroupRaise Causes can be accessed at http://www.groupraise.com/causes
About GroupRaise.com
GroupRaise.com, which made its debut in 2011, has explosively grown to become the country's largest online resource for non-profit restaurant fundraising opportunities. GroupRaise has a directory of 500+ restaurants in over 180 communities across the U.S. who are looking to be more connected with local customers and the causes they care about.
On GroupRaise.com individuals supporting non-profits can request dates at local restaurants to organize group meals in which they invite others to come eat with them and the restaurant donates back a percentage of the group's meal sales to a charitable cause. GroupRaise Meals are typically attended by 20-200 customers of which 60% are first time customers to the restaurant and 96% report that they will return after the experience. For more information about GroupRaise, go to http://www.groupraise.com/