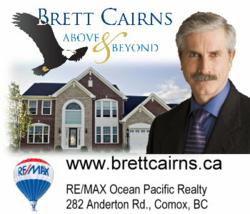 Brett was fabulous to have on our relocation team
Comox on Vancouver Island, British Columbia, Canada (PRWEB) March 22, 2013
Brett Cairns of RE/MAX Ocean Pacific Realty celebrates 40 years of continuous service to country, community, and now his Comox Valley real estate clients. This service is founded on 40 years of continuous education, training and experience. Brett skipped a grade in elementary school, won athletic awards in high school, received his Secondary School Graduation Diploma at 16, and rose to the top rank of Warrant Officer First Class in his Air Cadet squadron. He is car and motorcycle enthusiast, a self-taught mechanic, and he worked several part-time jobs to fund his extra-curricular activities. 1973 was a distinctive year for him in several ways:

His Secondary School Honour Graduation Diploma was awarded with academic distinction;
He raced 100+ mph "Laydown Enduro" go karts (breaking the track record at Mosport,
Ontario) and snowmobiles (winning a world-series qualifier at Peterborough);

He was awarded with a one month trip to the Netherlands as part of the Air Cadet
Exchange Program, and he was recognized for outstanding international cooperation; and

He began his first professional career with the Department of National Defence.
While attending the Royal Military College, Brett won individual and top all-around awards for athletics, academics, and leadership. During the summer months he completed basic officer, aeromedical, survival, and primary flying training. In year 4, he was appointed Cadet Wing Academic Officer, and captain of the High Box Display Team. He graduated with honours with a Bachelor of Mechanical Engineering. Over the next 5 years, he completed two extensive flying courses, earned the highest flying leadership level in his squadron, completed Canadian Forces College Staff School, and graduated from the Canadian Forces Fighter Weapons Course – Canada's Top Gun course – with honours.
Brett was selected to represent Canada on exchange with the United States Air Force at Shaw AFB in South Carolina. He topped the RF4C flying course, completed a 7 course Officer Professional Development Program, became a flying instructor, and was selected to the leadership role of Flight Commander. After returning to Canada, he assumed duties at National Defence Headquarters where he initiated and advanced several multimillion dollar capital acquisition projects. While there, he led the transformation and development of the Goose Bay Labrador airfield into a multinational flying training base while addressing personnel, infrastructure, capital equipment, and environmental issues.
Brett Cairns later completed the year-long post graduate level Canadian Forces Command and Staff College (CFCSC) diploma program in Security and Defence Management. He spent countless hours of his own time doing personal research, and he authored a four-part series of pamphlets on history and doctrine that he left with the college for the benefit of future students. That year, he was awarded the Medal of Bravery by the Governor General of Canada, then Jean Sauvé. For the next two years, he was employed at Fighter Group/NORAD Region Headquarters where he authored several strategically important plans. During the Gulf War, he was appointed to a Deputy Chief of Staff position. In his spare time, he was active in the community coaching baseball.
He subsequently returned to flying, and graduated from the CF-18 tactical fighter pilot course as the top student. Following the course, he was appointed Squadron Commander (a CEO level position) of a 210 person flying organization. Two years later, he completed a year-long French language training course, and achieved the highest level of second language proficiency according to government testing. He used his new second language capability the following year as a member of the CFCSC faculty, and as a French syndicate leader.
In the years that followed, Brett Cairns held a number of progressively senior command and staff appointments. He progressed, and secured funding for, several multibillion dollar capital equipment projects. He was the senior Canadian planner during the NORAD response to 9/11. As well, he created, wrote, and published a vision and long-term plan for Canada's Air Force. He provided day-to-day oversight of all Canadian Forces operations, and he led numerous planning efforts including the DND response to the Sri Lanka Tsunami in 2004. He also led efforts to modernize and transform the command centers of NORAD and US Northern Command for homeland defence, and he spearheaded improved information sharing and cooperation with multiple inter-agency partners for homeland security. Outside of this, he completed the US Air University non-resident post graduate level program in Strategic Studies, and he continued to be active in the community. He was certified as a baseball coach in both Canada and the United States under the 3M National Coaching Certification Program and the National Federation Interscholastic Coaches Education Program. He coached baseball for 12 years and softball for two. He also found time to restore and rebuild a classic car from the frame up.
Brett completed his first 35 year professional career, and started his second professional career in real estate. To become licensed, he had to complete the requirements of the Real Estate Trading Services Licensing course at the Sauder School of Business at the University of B.C. within one year of registration. He completed it in 10 days. Brett continues to spend considerable time on his own becoming an expert on real estate in British Columbia. He applies this same level of dedication and effort to maintain expert knowledge of the Comox Valley real estate market. While doing this, he learned computer coding, built his own website, learned about Search Engine Optimization, and significantly improved the search engine results page position of his website. He purchased graphics design, photo, and video editing programs, and now uses them effectively for marketing and advertising. His continuous learning approach includes completing formal courses, and webinars on an ongoing basis.
More importantly, Brett Cairns of RE/MAX Ocean Pacific Realty applies his passion, knowledge, and experience to benefit his real estate clients. Their satisfaction is a testament to his approach. His service- before- self value-driven approach guided by a code of ethics and professional conduct now guides his real estate career. He continues to give back to his community in ways aimed at helping people and pets in need. His service first, people always creed is delivered by Brett going Above & Beyond to deliver comprehensive real estate services to his clients. As a Comox Valley Realtor, his aim is provide his clients with Peace of Mind when they buy and sell their homes. Brett understands that choosing a real estate agent is a personal and important decision. When you choose, turn to Brett Cairns as your agent in the Comox Valley real estate market.