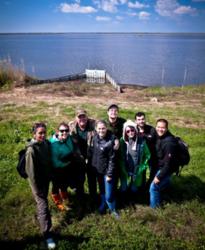 New Orleans, LA (PRWEB) March 22, 2013
Six Loyola University New Orleans MBA students are competing in today's IDEAcorps competition during the last day of New Orleans Entrepreneur Week. The company they have partnered with just received a boost in exposure and an extra $50,000 to help fund its invention.
Pierce Industries, inventor of a patented modular shoreline protection and sediment retention system—The Wave Robber™—won the third annual Water Challenge Monday during the first day of New Orleans Entrepreneur Week. The Water Challenge is a collaborative initiative of The Idea Village and the Greater New Orleans Foundation that aims to identify and support entrepreneurial solutions that apply innovative approaches to how we live with water. The Wave Robber could potentially provide land restoration along the shore of Louisiana's already depleted coastline.
The team, which is made up of students enrolled in a Loyola entrepreneurship workshop with assistant professor of management Felipe Massa, Ph.D., includes: Joshua Daly, Christine Lazzaro, Jessie Millsap, Conrad Pramono, Haritiana Rakotomamonjy and Sarah Zarate. The students have been advising clients and building a repertoire of New Venture consulting tools in class.
Loyola MBA student Chris Zimny, who currently works with The Idea Village, said the students "played a critical role" in helping their entrepreneur win $50,000 Monday at the Idea Village Water Challenge.
The team, which has been working with Pierce this week to tackle critical business challenges and leverage strategic opportunities, couldn't be more excited for him and acknowledges the collaborative effort of the Idea Village.
"We assisted with slide design, secondary market research, product comparison and coaching Webster with his pitch, though he would not have won without the Idea Village staff," said Zarate.
In addition to the efforts of the entrepreneurship students and the Idea Village staff, Pierce worked with the Louisiana Small Business Development Center, of which Loyola is a partner. Rakotomamonjy and Zarate are grad assistants in the center and Pierce is a client.
Loyola joins MBA students from seven other universities for The Idea Village's IDEAcorps during New Orleans Entrepreneur Week, March 16-22. IDEAcorps is an entrepreneurial experiential learning program that has engaged more than 500 individuals from more than 20 business schools across the U.S. The week-long entrepreneurial festival lures nationally renowned venture capitalists, regional investors and corporate volunteers, who come together to support early-stage New Orleans ventures and expose emerging opportunities. The students have been preparing for this project since the semester began, which is the main project in their workshop.
For more information, please contact James Shields in Loyola's Office of Public Affairs at 504-861-5888 or jshields(at)loyno(dot)edu.