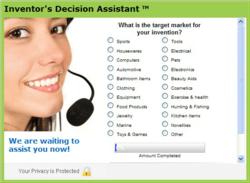 Inventors need not struggle to make money from their inventions.
Park City, Utah (PRWEB) March 27, 2013
The Invention Patenting Group of Park City, Utah, founded in 1999 by Brian R. Rayve BSME, JD, MBA to help inventors and other entrepreneurs protect and profit from their inventions and new product ideas, is pleased to announce its new Inventor's Decision Assistant that shows inventors how best to protect and profit from their inventions. Inventors simply answer some basic questions about their particular circumstances and inventions. A free custom Inventor Strategy Report is emailed in 1-3 business days outlining how to best protect and profit from their inventions based on their particular situation.
"New inventors are taken advantage of all the time", stated Brian R. Rayve, an experienced mechanical engineer, a former patent attorney and owner of the Invention Patenting Group. "When I worked as a patent attorney, after putting in much time and effort into preparing patent applications and seeing so many independent inventors pay a lot of their hard-earned money, most failed to make a profit from their inventions in the marketplace. This broke my heart as I like to see entrepreneurs such as this succeed in achieving their business and life goals."
He continued, "Inventors are typically extremely excited about their new idea and immediately want to protect it by filing a provisional patent application or a utility patent application using a patent attorney. While this is appropriate in certain situations, 95% of patents are never utilized in the marketplace. Or they purchase services such as mostly useless marketing evaluations and virtual models from invention marketing companies that may not have their best interests at heart. These actions are premature in light of the questions that need to be answered before deciding on a particular course of action for the invention. Questions include determining the real value of their idea in the marketplace, whether their idea is actually an invention that can be patented, whether the breadth of protection of such patent would be adequate to justify patenting it, what the inventor's goals are for their invention, and what financial resources are available personally and through angel investors. Therefore, Brian designed the Inventor's Decision Assistant that is used in conjunction with the IPG Invention Process."
The Inventor's Decision Assistant takes out much of the guess work and excess spending by new inventors on unneeded patents and marketing services by pointing them in the proper direction to commercialize their inventions simply by asking some basic questions. These questions include the target market for the invention, whether it is something totally new or an improvement on an existing product, when the invention was conceived, whether a patent application or an issued patent exists on the invention, the development stage of the invention, the inventor's age group and occupation, the inventor's desired goals of selling their rights, licensing an issued patent in exchange for periodic royalty payments, or manufacturing products based on the invention, and whether the inventor seeks investors.
The answers to the questions allow the Invention Patenting Group to determine the current status of the invention, the inventor's skill set, and the inventor's goals for the invention. Ultimately, the information is used to determine whether the inventor's goals are realistic (reasonably achievable) and to develop a plan for the inventor to reach his or her goals. This information is conveyed in the form of a Custom Inventor Strategy Report that is sent by email in 1-3 business days.
Inventors and other entrepreneurs interested in learning more about inventions and inventing can join the Invention Patenting Group inventor's community for free at our website. Inventors interested in learning more about the Inventor's Decision Assistant, inventor products, or inventor services should contact Brian R. Rayve at 1-866-279-7174 or 435-649-1212.
Invention Patenting Group
161 Maple Drive
Park City, Utah 84098-5113