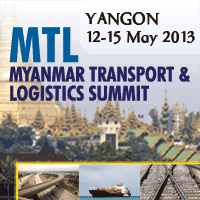 The MTL Summit aims to draw decision makers and senior executives of various sectors including supply chain industry, FMCG, F&B, and many more.
Yangon, Myanmar (PRWEB) March 26, 2013
Union Minister of Transport, H.E. U Nyan Htun Aung is slated to open the 4-day summit with a keynote address while DICA's Director General Aung Naing Oo gives an update on the foreign investment law. Director of the Ministry of Transport's Department of Transport, U Aung Ye Tun, will also share the nation's master plan on the transport sector, covering inland waterways and river transportation developments. Vital sessions by senior representatives from Myanmar Port Authority, Ministries of Rail Transportation, Construction and Transport offer delegates first-hand updates on logistics infrastructure support, port development, rail network, road projects and airports & air cargo infrastructure.
Participants can look forward to updates on trade policies leading up to AEC 2015 from Ministry of Commerce's Director of Trade, U Aung Soe himself. Ms. Soe Soe Lwin, Assistant Director at Ministry of Finance and Revenue's Department of Myanmar Customs also shares insights on customs regulations and reforms affecting clearance rate, and Captain Aung Khin Myint, Chairman of Myanmar International Freight Forwarders Association elaborates on the various transport and logistics challenges in the country.
High-level representatives from international companies will front sessions on supply chain management. Dr. Myo Thant, GM of Myanmar C.P. Livestock's Integration Business delivers a case study on their logistics operations. Managing Partner at EBI Consultancy, Mr. Jan-Willem Adrian speaks on total logistics solutions, offering you insights on cost effective supply chain management.
Other key speakers include Mr. Oliver Goetz of Rothschild, Mr. William Yang-Lei of Global Institute of Logistics and Mr. Masaki Takahara of JETRO Myanmar, zooming into funding, changing nature of global port authorities, and Thilawa Economic Zone and deep sea port update respectively.
The MTL Summit aims to draw decision makers and senior executives of various sectors including supply chain industry, FMCG, F&B, and many more. Delegates can expect to network with various industry leaders at the exclusive MTL reception sponsored by international logistics solutions provider, CEA Projects.
Additionally, supplementary pre- and post- summit programs specially designed to enhance learning include:
1. Pre-conference Workshop on Land in Myanmar – Legal Commercial & Practical Aspects
Led by Alessio Polastri, Karina Peng, Sebastian Pawlita from Polastri Wint & Partners.
2. Site Visit to MITT (Myanmar International Terminal Thilawa)
3. Post-conference Full-day Workshop on 3P3 in Infrastructure Development in Myanmar
Led by senior port professional with international experience, Mr. David Wignall, Head of Transport & Infrastructure, Asia, Rothschild, Mr. Oliver Goetz, and Director – Ports & Maritime, Royal Haskoning, Mr. Martijn Coopman.
Visit official website at http://www.cmtevents.com/aboutevent.aspx?ev=130512&pu=221312& for more information or contact Ms. Huiyan at Tel. 65 6346 9113 on any enquiries.