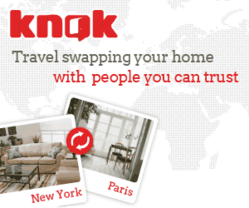 People who discover home exchange become real fans, and Knok offers them a place to do it safely and effectively.
(PRWEB) March 25, 2013
Knok, the online home exchange community, has received an investment of 500.000 euros from a group of Spanish private investors (family offices), with the objective of accelerating its growth and establishing itself as the worldwide reference in this sector. Founded in Barcelona in 2011, Knok has over 20.000 users in 159 countries.
During its first year and a half, Knok has created a powerful technology platform and has built a community of thousands of users around the world. The objective of the company is to take home exchange mainstream, as a normal alternative to hotels and rentals.
People who try home swapping live such an interesting experience that they get hooked and it becomes their usual way to travel. Besides the money saving advantage, which amount to between 1,500 and 2,500 euro for a 15-day vacation, members enjoy a larger, more comfortable space than a hotel, with all the equipment from a real home, plus the local recommendations of the family they exchange with, which offers them a deeper immersion in the city and its culture. Families with children, seniors and young couples are the most typical home swappers.
Knok.com includes over 50 innovations that offer its members an easier, safer experience in home swapping, such as, a home exchange insurance, a smart search system, a personalized exchange suggestions algorithm, and a private messaging system that protects the privacy of the members.
Knok is the fastest-growing home exchange site in the world, and is expected to triple its size during 2013. According to Juanjo Rodríguez, Knok's co-founder, "People who discover home exchange become real fans, and Knok offers them a place to do it safely and effectively. When you receive an offer to travel and stay for free in Paris or Australia, that's hard to resist!"