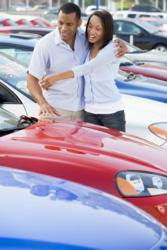 When asked why they plan to buy a second hand vehicle, understandably, 63% of people say it is due to the cost
Manchester, UK (PRWEB UK) 25 March 2013
If you are looking to buy a car, you may think that nothing quite beats that "new car" smell or the feeling of being the first owner. New research* from car finance and dealer specialist carfinance247.co.uk, however, reveals that in today's cost-conscious environment, 80% of people planning to get a new car will opt for a used vehicle.
The study* found that, of those questioned:

60% plan to buy a new or used vehicle within the next 12 months;
80% are planning to buy a second hand vehicle;
57% will use their own cash or savings, while 27% will use a car finance company;
86% of male motorists are opting to buy a used car compared to 63% of their female counterparts.
When asked why they plan to buy a second hand vehicle, understandably, 63% of people say it is due to the cost – with over a third (34%) citing how they can get the car they really want, at an affordable price.
Other reasons for buying a used vehicle instead of a new car include:

17% saying that you get more "extras" as standard (which the original owner would have paid for);
7% saying that any "teething problems" will have been ironed out
Emily Henshall, Marketing Manager at Carfinance247.co.uk, says: "While there is a lot of car buying activity around this time of year, it is interesting to see that while there are a lot of cars being bought, cash strapped Brits tend to be looking for a 'newish' car rather than a brand new one. Buying a second hand car has become the affordable option to upgrade and still get the car buyers want."
Ends
*Independent research carried out in March 2013 on behalf of Carfinance247.co.uk by Usurv.
Contact:
Stella Hulott, Speedie PR, telephone: 01843 831088 or email: stella.hulott (at) speediepr (dot) co (dot) uk
About us:
Carfinance247.co.uk was founded in 2000, and is a privately owned business with offices based in central Manchester, offering a wide range of motoring and financial services.
We provide vehicle financing solutions for all financial circumstances such as hire purchase, personal contract purchase, contract hire and other leasing options. No deposit is required and we give you the choice of buying any car from any dealer nationwide. Or, if you prefer, we can supply and deliver any make and model of your choice.
Address: The Loading Bay
Albion Works
12-18 Pollard Street
Manchester
M4 7AJ