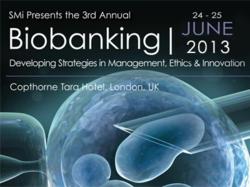 "Detailed and specific"...Roche
London, UK (PRWEB UK) 24 March 2013
The SMi Group have recently published a conference agenda for their 3rd annual Biobanking Conference taking place this June.
According to Nature Medicine, a survey published earlier this year by Genome Medicine highlighted that 70% of the 456 US biobankers questioned, were worried that specimen samples are being underused.
With this in mind, it is now more important than ever to build sustainable biobanks having improved access to biosamples and obtaining longer bio-specimen lifecycles. In addition to the concerns of retention, biobanks are under constant pressure to meet quality standards and international regulations.
Following on from the growing need to educate biobanks on management strategies, ethics and innovation; SMi Group have confirmed that Julie Corfield, Director at Areteva, will be providing a unique insight into Strategic Tissue Repository Alliances Through Unified Methods (STRATUM) at the 3rd annual Biobanking conference this June in London.
Topics to be covered include:

Biobanking Polices
Technical standards
Sample Life Cycle Management
Julie will also be leading a panel discussion on "Biobanking Cost Effectiveness" for affiliated attendees to share ideas on streamlining.
Joining Areteva at the event will be Nottingham Health Science Biobank, Chernobyl Tissue Bank, Bayer, Novartis and UCL Biobank.
SMi's first two installments in the Biobanking series received positive reviews from within the industry. Attendee feedback included Merck "Stimulated, good discussions and provided good feedback on questions'' Roche "Entertaining and informative'' and GSK ''Detailed and specific''.
For further information on the event contact John Collins at +44 (0)20 7827 6734 or email jcollins(at)smi-online(dot)co(dot)uk