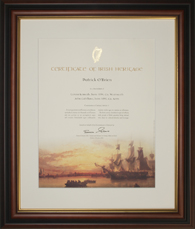 I am so proud of my Irish roots.
(PRWEB) March 23, 2013
Chris Matthews, host of Hardball daily chat show on MSNBC was the proud recipient of a Certificate of Irish Heritage on his live show Monday evening. Senator Mark Daly, Irish government spokesman for the Irish overseas and Diaspora presented the Certificate to Chris Matthews.
Senator Daly said, "I am delighted to present Chris Matthews with a Certificate of Irish Heritage. Chris' Irish ancestors came from Donegal and Antrim in the 1860's. Anyone of Irish descent can apply for a Certificate. The Irish Government wants to reach out and connect the global Irish community back to their roots. The Certificate officially recognises this relationship now and for future generations. St. Patrick's Day is about celebrating our Irish heritage with our great global family."
Chris Matthews said, "I am so proud of my Irish roots. I am overjoyed to receive this beautiful Certificate of Irish Heritage which I will display with pride in my home. This makes this St Patrick's Day truly memorable – a wonderful gift to receive."
The Certificate of Irish Heritage is a Irish Government document that officially recognises a person's Irish ancestry. Anyone of Irish descent is eligible for a Certificate of Irish Heritage. Each certificate is a unique personal record of the person's Irish roots, showing the name of their Irish ancestor and the town or parish in Ireland from which they came. Each Certificate reflects themes of Emigration, landscape and Celtic design. The certificate is a keepsake that can be passed on to future generations.
See http://www.heritagecertificate.com for details.
More information contact:
Kay Woods
+353 87 2355293
kwoods(at)heritagecertificate(dot)ie
Gráinne Gallen
+353 87 2432133
ggallen(at)heritagecertificate(dot)ie