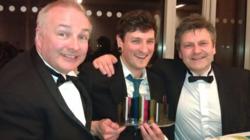 This award is a reflection of all the hard work and energy that's been put into Seller Dynamics

- Steve Boland
Stirling, United Kingdom (PRWEB UK) 22 March 2013
Marketplace management experts Seller Dynamics are today celebrating winning the prize of "Best Business through Innovation" at the Stirling Business Awards. The cloud based software is designed to help retailers grow their revenue streams through e-commerce, and already boasts an impressive client base. Despite working with a diverse range of clients from different business sectors, each of these clients are united by the same common theme – they have all grown their profits by working with Seller Dynamics and tapping into the power of online marketplaces.
The Stirling Business Awards is an annual event organised by the Stirling Business Panel which celebrates the best of Stirling and its local businesses. After collecting the award, Business Development Manager Steve Boland expressed his thanks to everyone associated with Seller Dynamics for the efforts they put in over the course of the past year.
"We're absolutely thrilled to be honoured with this award and it really is a reflection of all the hard work and energy that's been put into Seller Dynamics over the past 12 months or so. We're extremely happy to be recognised for our work in the local area and for our contribution to the job market in the backdrop of a struggling economy."
In the past year, Seller Dynamics has successfully forged partnerships with Amazon, eBay, Play.com and Fnac. As a result, retailers have been offered a solution to combat the recession and demise of the high street through e-commerce; a business sector which in recent years has grown and is continuing to grow at a rapid pace.
Through innovation, use of technology, and the ability to form partnerships with some of the world's largest marketplaces, Seller Dynamics has proven to be a worthy winner of the "Best Business through Innovation" award and the team are already working on even more exciting innovations for ambitious online retailers.
---------- End ----------
For further information contact Seller Dynamics
at +44 (0)1786 430076
or email steve.boland(at)sellerdynamics(dot)com
Note for editors:
About Seller Dynamics: Seller Dynamics is dedicated to helping retailers maximise their sales and profits online, by utilising the power of Marketplaces such as Amazon, eBay, Play.com, and Fnac.com. With Seller Dynamics, retailers can list their entire product portfolio on these marketplaces, reaching a global audience of billions, while simplifying their overall business management through Seller Dynamics' powerful inventory management and dynamic price management tools.
Seller Dynamics is a brand of Objective Associates Limited, a leading software and web development agency based in Stirling, Scotland. The company offers Seller Dynamics on a commission based model together with a modest set up fee. Formed in 2002 with a background in class-leading enterprise-grade software development, the company has significant expertise in the design and development of robust and scalable software systems utilising the Microsoft Platform and related technologies.