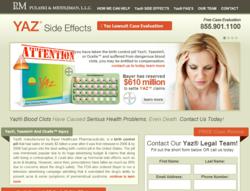 You have as much as a 74% greater chance of Yaz side effects such as DVT, strokes and blood clots after using the birth control drug.
Boca Raton, FL (PRWEB) March 27, 2013
Many women across the U.S. have experienced blood clotting-related health disorders after taking birth control medications Yaz, Yasmin or Ocella****. However, many injured women do not know that they may be entitled to financial compensation and that Bayer AG, the manufacturer of aforementioned birth control pills, created a fund of $1.5 Billion to deal directly with lawsuits associated with these drugs**. In order to ensure that patients have the best chance of collecting their portion of the fund, injured parties are encouraged to contact a law firm specializing in pharmaceutical product liability cases. As of January 2013, there were already over ten thousand reported case filings, and many industry insiders suspect that number will continue to grow**. A qualified attorney can assist those who have suffered injuries from using Yaz, Yasmin or Ocella, gain access to funds available only to those who file now.
Plaintiffs claim to suffer from a wide variety of Yaz side effects, such as blood clots, heart attacks, strokes and even death***. Some of the more serious reports surround injuries like DVT (deep vein thrombosis) and pulmonary embolism***.
According to the British Medical Journal and studies by the FDA, you have as much as a 74% greater chance of Yaz side effects such as DVT, strokes and blood clots after using the birth control drug*. It's also reported that Bayer has already paid out an estimated billion dollars to settle lawsuits filed surrounding these new findings**. Because of the volume of cases being filed, the court proceedings have been consolidated to a special federal Multi-District Litigation court in the Southern District, Illinois. Due to the specialized nature of the federal drug litigations, patients are being urged to seek counsel with a Yaz lawsuit attorney that's well versed in the case, now known as Yasmin and Yaz (Drospirenone) Marketing, Sales Practices and Products Liability Litigation (MDL No. 2100, Southern District Illinios).
The most important goal of ongoing awareness programs is to identify and educate women who have experienced such problems, and not yet related them to birth control pills as being the alleged culprit. Friends and family members are being urged to get involved and encourage victims to contact a qualified Yaz lawsuit attorney to help them seek and attain financial compensation for their hardships.
Because so many potential victims have not yet heard of the recalls and may not be aware they too are entitled to a portion of the funds already set aside, time may be limited for those eligible to collect. As aggressive initiatives to inform the public continue, more and more women are coming forward to file legal action and to speak up to help spread the word about possible Yaz side effects, the health risks associated, and the financial compensation that may be due them.
The FDA letter to Bayer Pharmaceuticals was very critical of the lack of attention and focus placed on possible Yaz side effects and set the tone as early as November 2009 for what was to come***.
If you or a loved one was negatively affected by taking Yaz, Yasmin or Ocella, please visit http://yazsideeffects.com/ to learn about the serious blood clotting related side effects and consequent injuries.
Sources:
*British Medical Journal, October 25, 2011, University of Copenhagen; FDA, October 27, 2011, "Combined Hormonal Contraceptives and the Risk of Cardiovascular Disease Endpoints
**Bayer 2012 Annual Report, Consolidated Financial Statement, Legal Notes, February 28, 2013
***Bayer HealthCare - Bayer Schering Pharma AG 8/5/09, http://www.fda.gov/ICECI/EnforcementActions/WarningLetters/ucm182206.htm, August 5, 2009
**** Business Development and Legal Notes section, Bayer Interim Financial Statement, September 30, 2012.