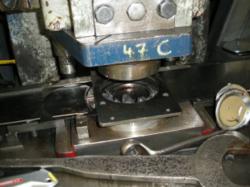 the worker's injuries could have been avoided
Bolton, United Kingdom (PRWEB UK) 28 March 2013
The 25-year-old victim from Egremont, lost four fingers and severed parts of two others in the incident at the Smurfit Kappa UK site at Richmond Works in Hensingham, Cumbria. The incident occurred on September 14, 2010; as a result of this was able to make a health and safety breach claim. (1)
Smurfit Kappa was prosecuted on March 21 by the Health and Safety Executive (HSE) after an investigation found the employee had not received adequate training and he was not being appropriately supervised during the accident.(1)
As a result of the incident, the victim lost two fingers on his left hand, and a further two on his right hand. An additional two fingers were also severed to the second knuckle. Injuries that could have easily been avoided if the correct training had have been provided. (1)
Speaking after the hearing, HSE Inspector Andrew Jewitt said
"The risk of serious injury from power presses is well known in the manufacturing industry and the worker's injuries could have been avoided if Smurfit Kappa had made sure he and his supervisors had been properly trained. Incidents like this will continue to happen if employers don't take the risks seriously." (1)
The court was told that the employee's previous supervisor had left the company four months before the incident and that the new supervisor who took over had not yet received suitable training. As a result of this, the injured worker had not been given sufficient training on how to operate the machine correctly, and a suitable risk assessment was not in place.(1)
Smurfit Kappa UK Ltd pleaded guilty to an offence under the Health and Safety at Work Act 1974 after it failed to ensure the safety of its employees. The company, of Water Street in Pier Head, Liverpool, was fined £200,000 and ordered to pay £19,308 in prosecution costs.(1)
Commenting on the settlement, John King, Business Development Manager at Asons Solicitors, stated that:
"Any compensation awarded as a result of this accident at work claim can't undo the damage caused, but it can go a long way to funding the aids and support that the victim will need to improve his quality of life; items that many wouldn't be able to afford otherwise. I'm just glad that employee received the compensation he deserved."
If you have been effected by an accident at work you may be entitled to make a personal injury claim.
(1) Smurfit Kappa fined £200k after worker loses fingers – The Business Desk
http://www.thebusinessdesk.com/northwest/news/446193-smurfit-kappa-fined-200k-after-worker-loses-fingers.html?utm_source=newsletter&utm_medium=email&utm_campaign=NorthWest_22nd_Mar_2013_-_Daily_E-mail

About Asons Solicitors:
Asons Solicitors is a Bolton-based law practice that specialises in personal injury and industrial disease claims. Founded by brothers Imran Akram and Kamran Akram, Asons Solicitors has developed to become a young and dynamic law firm that delivers practical solutions to clients in times of difficulty. Their continued focus on their staff has seen them awarded with the Investors in People "Gold Award"; which is reflected in the professional and personable approach they take in working with clients. They strive to grow and to develop, and their supportiveness and attention to detail ensures that their clients use them time and again.
For further information contact:
Email: info@asons.co.uk
Website: http://www.asons.co.uk