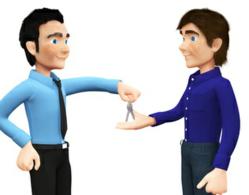 Remember that car insurance follows the vehicle, not the driver.
(PRWEB) March 22, 2013
Lending a vehicle to someone is a friendly and helpful gesture, and is perfectly legal. It is important to be responsible as the vehicle owner when someone else is behind the wheel. The person borrowing a vehicle needs to be aware of the serious responsibility they are receiving and ensure they take their accountability seriously. Before handing over the keys, read these tips from ComparaSave.com to help lessen the risk.
Remember that car insurance follows the vehicle, which means it is the insurance policy taken out by the owner of the vehicle that will handle any incidents that may occur. If the individual who borrowed the vehicle is involved in an accident through their negligence, at-fault, it may cost the owner of the vehicle to pay a deductible and/or may increase their insurance rates. It may also be the owner's insurance policy that will pay for damage to the vehicle itself through their coverage. A good reminder is this, "The owner bears the responsibility for anything that happens with their vehicle, even if they are not present," says Tammy Ezer of ComparaSave.com. It is vital to be certain that the person driving is trustworthy and responsible.
Always verify the following conditions before lending a vehicle to ensure you are responsibly lending your vehicle:

Ensure that the person borrowing the vehicle has a valid drivers licence
Make certain that a copy of the vehicle registration and proof of insurance are in the vehicle
Verify where and when the vehicle will be used
Inspect all signal lights, brake lights and other important functions
Ensure the borrower does not let anyone else drive the vehicle
Check the odometer reading before lending the vehicle, this will indicate if the vehicle was used outside of what was agreed upon
If you are a driver who is trustworthy and have a clean driving record, avoid lending your vehicle to anyone who might be irresponsible as this could potentially affect your insurance quotes and rates.
About Comparasave.com
ComparaSave.com is a digital marketplace dedicated to helping Canadians save money by providing the lowest insurance and mortgage rates, as well as credit card and holiday comparisons, from a network of over 40 providers. Launched by Insurance Hotline, ComparaSave.com has partnered with insurance companies and brokers, mortgage professionals, credit unions and other financial institutions to ensure consumers get a fast, free and easy-to-use service. ComparaSave.com is a division of Insurance Hotline.