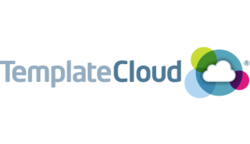 Printers add online design to their sites without requiring heavy investment
Manchester, United Kingdom (PRWEB UK) 24 March 2013
A new service for print entrepreneurs was launched today in 12 countries and 9 languages. The TemplateCloud API allows online print shops and entrepreneurs to add thousands of designer templates to their existing website without requiring heavy investment.
Printers choose which designs to sell from a library of over 10,000 designs across a range of printed items like business cards, flyers, brochures and invitations. By embedding the TemplateCloud advanced editor into the printer's website, their clients can personalise the design, upload photos or browse 14 million free images. Designs are available in English, French, Dutch, Spanish, German, Portuguese, Swedish, Italian and American English.
When a client checks out from the printer's website, the TemplateCloud API makes a print-ready PDF automatically for the printer's own presses or to send to a supplier, streamlining the whole process.
All TemplateCloud designs are crowd-sourced from a community of real designers. Designers use Adobe InDesign to build a template ­and no plugins are required. Graphic designers upload their finished design to TemplateCloud.com, where an automatic process converts this into an online editable template in minutes. Designs that sell best have industry-specific marketing copy and striking images, so designers are encouraged to invest time in each piece.
Chief Technology Officer of TemplateCloud, Peter Gunning, said "TemplateCloud isn't like other design contests where businesses upload a brief, hundreds of designers enter their designs and only one designer wins. TemplateCloud is different. Our mantra is... design once, sell many. Each time a designer's template is sold, anywhere in the world, we pay the designer a royalty - ­even if we translate it into a different language. Some of our top designers have already earned more than £5,000."
Following an extensive private beta, TemplateCloud have today opened their API to general availability and are inviting print site owners and entrepreneurs who want to add online design capabilities to their site to register for developer documentation at http://www.templatecloud.com/developer
Designs are already being sold on print websites every day, including http://www.drukland.nl in The Netherlands, http://www.needaprint.ie in Ireland, http://www.flyerzone.co.uk in the United Kingdom and http://www.printing.com/fr in France.
TemplateCloud are also now accepting submissions from designers in the United Kingdom, Republic Of Ireland, France, Germany, Spain, Netherlands, New Zealand, Australia and the USA. Designers in Sweden, Italy and Portugal will be able to upload their designs from April. Gavin Cockerill, MD of TemplateCloud, said "A designer from Ireland can upload their design to the cloud and have it translated into French or Dutch automatically and be selling in a country they¹ve never visited, and in a language they don't speak."
Packages start at just £695 up front and minimum of £99/month.
Funding may also be available for budding entrepreneurs. TemplateCloud's parent company, printing.com plc is a Delivery Partner for the UK Government¹s Start-Up Loan scheme. Entrepreneurs aged between 18-30 who live and work in England, could get a loan of up to £10,000 to help kick start their business. Find out more.