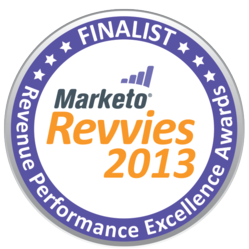 Austin, TX (PRWEB) March 26, 2013
ReachForce announced today it has been named a finalist in the third annual Marketo Revenue Performance Excellence Awards.
The "Revvies" recognize and celebrate customers and partners that are using Marketo's marketing automation solutions to push outside the bounds of existing markets and away from entrenched players.
ReachForce has been named a finalist in the Launchpoint Evangelist category.
ReachForce creates connected data solutions for B2B Marketing Departments to increase revenue performance from marketing. ReachForce currently has two Marketo LaunchPoint solutions. SmartForms speeds leads to opportunity with real-time Marketo-integrated web form data enrichment. Data Cleanse & Append improves all outbound marketing results, including increased email deliverability up to 100% and a demonstrated 10X increase in event registrations in a case study to be published next month.
ReachForce is a founding partner of the Marketo LaunchPoint ecosystem.
"ReachForce is proud of our close product and business alignment with an industry leader like Marketo, and we are very enthusiastic about our early and continuing advocacy of the LaunchPoint ecosystem," stated Justin England, Vice President of Business Development & Strategy at ReachForce. "We are grateful to the fantastic team at Marketo for their recognition and support of SmartForms and our other world-class data quality management solutions and we look forward to jointly bringing further value and innovation to the Marketo customer base."
Revvie finalists were selected based on the following criteria: innovation, leadership, success metrics and business impact. Finalists will be celebrated on April 10th, 2013 at the 2013 Marketo Summit in San Francisco.
"Being a Revvie finalist demonstrates ReachForce's thought-leadership and the substantial business impact they've accomplished by using Marketo," Sanjay Dholakia, CMO at Marketo. "It is the marketer's time to transform the industry and we are extremely proud of our Revvie finalists for rising and leading this charge. Congratulations to our finalists - we look forward to working with them as they continue to innovate with Marketo."
ABOUT REACHFORCE:
ReachForce delivers cloud-based software and B2B lead data services for marketers to accelerate lead conversions from their inbound, outbound, and database marketing initiatives. ReachForce helps accelerate B2B lead conversions for over 400 leading companies such as Dassault Systemes, Eloqua, GXS, Marketo, ReadyTalk, and TripAdvisor. Businesses use ReachForce to optimize their nurturing, scoring, targeting, segmentation and marketing automation initiatives, reach new markets and accelerate revenue. For more information on ReachForce and conversion acceleration best practices, visit http://www.reachforce.com or follow us on twitter @reachforce.
###