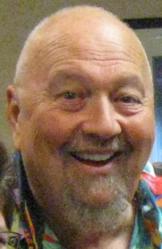 What soap is to the body, laughter is to the soul.
COLUMBUS, OHIO (PRWEB) March 25, 2013
Are you ready to enjoy National Humor Month, or is there too much stress in your life? Psychologist Steve Wilson, Director of National Humor Month, invites you to visit the website to get practical tips for celebrating humor and on using humor to wipe out stress every day during April and year 'round.
The idea of laughing and the use of humor as a tool to lift ailing spirits is growing. Scientific research now indicates that the power of laughter to relieve debilitating stress and burnout may indeed be one of the great discoveries of our times.
National Humor Month was founded in 1976 by comedian and best-selling author Larry Wilde, Director of The Carmel Institute of Humor. It is designed to heighten public awareness on how the joy and therapeutic value of laughter can improve health, boost morale, increase communication skills and enrich the quality of one's life.
"Since April is often bleak and grim and taxes are due on the 15th, it can be one of the most stressful times of the year," says Wilde, author of 53 books on the subject of humor. "Besides," adds Wilde, "it's the only month that begins with All Fool's Day -- a day which has sanctioned frivolity and pranks ever since the 1500's."
To honor National Humor Month, on April 10, Wilson and Wilde will discuss "Laughter & Life Lessons Learned From the Legendary Laughmakers" during a webinar that will include a humor scholar, a motivational humorist, and an expert on raising children with a great sense of humor.
HumorMonth.com is the place where you can come to get ideas about how to celebrate humor, find information about the ancient roots of humor and the myriad contemporary expressions of humor.
Examples of what you will find there are: FUNNY LITERACY, a program that uses humor to help kids love reading; FULL-BELLY LAUGHTER, using humor to help people feel like laughing by assisting local food banks; the SMILEY PROJECT, blends humor with artistic and creative expression.
There is a list of "30 Ways to Celebrate Humor in 30 Days", and information about special celebrations such as International Fun at Work Day (April 1), Pursuit of Happiness Day (April 13) and the 26th Annual Conference of the Association for Applied and Therapeutic Humor (April 4-7)
Wilson is an internationally recognized and award-winning expert and author on applied and therapeutic humor. He offers a six-point program to prevent hardening of the attitudes, manage stress, overcome personal turmoil, and postpone our insanity. "Humor is very personal. What you think is funny, someone else may not. But it's important to laugh and get all the big laughs you can."
-END-