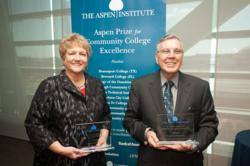 This is an incredible honor to have two of our colleges chosen as Aspen Top 10 finalists," said KCTCS President Michael B. McCall.
Versailles, Ky. (PRWEB) March 22, 2013
The Aspen Institute College Excellence Program has recognized two Kentucky Community and Technical College System (KCTCS) colleges among the 10 top community colleges in the nation - chosen from an original pool of nearly 1,200.
Southeast Kentucky Community and Technical College (SKCTC) and West Kentucky Community and Technical College (WKCTC) have both been named 2013 Aspen Top 10 finalists for Community College Excellence, the nation's signature recognition of high achievement and performance in America's community colleges. Only 10 finalists were chosen nationwide, and Kentucky is one of only two states to have more than one college recognized as a finalist.
"This is an incredible honor to have two of our colleges chosen as Aspen Top 10 finalists," said KCTCS President Michael B. McCall. "I congratulate SKCTC and WKCTC Presidents Dr. Bruce Ayers and Dr. Barbara Veazey on this outstanding recognition. We know KCTCS is providing excellent educational opportunities for students across the Commonwealth and this designation from the Aspen Institute reaffirms both the fine work of our faculty and staff and our students' achievements."
KCTCS faculty, staff and students statewide listened to a live Web broadcast from Washington D.C. on Tuesday as officials named Santa Barbara City College in California and Walla Walla Community College in Washington state as co-winners in the 2013 Aspen Prize; each receiving $400,000. Two other top colleges – Kingsborough Community College in Brooklyn, N.Y., and Lake Area Technical Institute in Watertown, S.D. will each receive $100,000 as finalists-with-distinction.
"As a community college teacher, I have seen firsthand the tremendous power community colleges have to change lives," said Dr. Jill Biden, Second Lady of the United States who was on hand for the presentation. "Community colleges are essential to the President's goal of having the best-educated, most competitive workforce in the world. They represent a uniquely American idea – that if you work hard and get a good education, you can get the skills you need for a good job and build a better life for you and your family. We are pleased to celebrate the contributions of these Prize winners and finalists."
Tuesday's announcement followed a rigorous, yearlong effort by The Aspen Institute to assemble and review an unprecedented collection of data on community colleges and the critical elements of student success: student learning, degree completion and transfer, equity and employment/earnings after college.
The Aspen College Excellence Program aims to identify and replicate campus-wide practices that significantly improve college student outcomes. Through the Aspen Prize for Community College Excellence, the New College Leadership Project, and other initiatives, the College Excellence Program works to improve colleges' capacity to achieve high levels of student learning, graduation, and post-graduation success in the labor markets, especially the growing population of low-income and minority students on American campuses.
For a complete list of Aspen Prize winners and finalists-with-distinction, as well as details on all of the Prize finalists, please visit: http://www.aspeninstitute.org/policy-work/aspen-prize/media-resources.