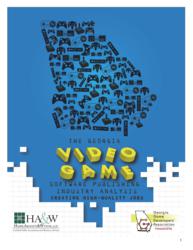 Atlanta, Georgia (PRWEB) March 25, 2013
Today the Georgia Game Developers Association (GGDA), a leading video game industry group, and Habif, Arogeti & Wynne, LLP (HA&W), the largest Georgia-based tax, accounting and business consulting firm, released the first economic impact study on Georgia's video game and digital entertainment industry.
Results from the report show that the industry produces stable, high-paying jobs. In fact, video game industry salaries are 99.6 percent higher than Georgia's average salary. In addition, the results of the economic impact study show that this is a wealth-creating industry for Georgia. Total economic activity will reach $1.9 billion for the year 2013, up from $73 million in 2008 when video game development was still a nascent industry here.
Mitchell Kopelman, HA&W's partner in charge of the Firm's technology & biosciences group and lead author of the study, said: "The economic impact analysis clearly shows that the video game industry produces stable, high-paying jobs. Average annual salary per video game worker in Georgia is more than $85,000. What's important to note is that these high-paid employees live in Georgia, work in Georgia, and spend their money in Georgia, supporting economic growth."
While many parts of the U.S. economy are still cautiously optimistic, the video game development industry is on a high-growth trajectory, internationally and nationally. By 2017, nationally the industry will reach $16.1 billion in revenue, according to leading research house, IBISWorld.
"That growth trend is reflected in Georgia," said Andrew Greenberg, executive director of GGDA. "Today there are more than 80 video game development companies here. Local companies, like CCP, Hi-Rez Studios, and Tripwire Interactive, have made a significant impact on the international gaming community, creating some of the world's most popular games."
Other important results of the Georgia Video Game Industry Economic Impact Study, include for 2012:

Direct Jobs: 1,824
Total Indirect Effect: 6,904 jobs created in other industries
Total labor income: $527,735,257
Direct Effect Output: $757,800,000 (sales)
Total GDP Contribution: $1.029 billion
State Tax Revenue: $48,499,057
Exports: $47 million of value was added into Georgia's economy (as of Sept. 2012)
For additional information, contact Mitchell Kopelman, HA&W partner-in-charge of the technology & biosciences group at 404-898-8231 or mitchell.kopelman@hawcpa.com.
To receive a full copy of the report, contact Kayla Payne at kayla.payne@hawcpa.com.
About Habif, Arogeti & Wynne, LLP:
Today the pace at which work gets done is faster than ever before, and when companies manage that pace by surrounding themselves with the right people, sustainable success happens.
That's why the Southeast's most recognizable businesses continue to select Habif, Arogeti &Wynne, LLP as their accounting, audit, tax and consulting firm of choice. Companies looking to increase profitability, streamline processes that improve financial reporting, and reduce the time and costs associated with audits, tax planning and compliance choose HA&W.
Faster answers, avoiding unforeseen pitfalls and becoming a better business for the long-run; these are just a few of the benefits clients routinely experience when working with HA&W.
Starting up, growing or getting ready to transition? Operating locally, nationally or globally? HA&W gets you where you want to be. Be Successful.
About GGDA:
The Georgia Game Developers Association ( GGDA) is a non-profit trade association of businesses and professionals of the video and electronic game manufacturing industry of Georgia. GGDA is committed to the growth and development of this industry and the success of its members as they compete internationally. Contact Andrew Greenberg, executive director, for more information at: 678-612-4709.