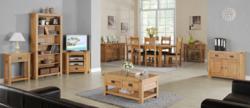 Back then it was easy. All you had to do was to stick some pictures and a price tag on a website, and buy some relatively cheap advertising.
Hereford, Herefordshire (PRWEB UK) 26 March 2013
Online Oak Furniture retailer, and importer, OAKEA is slashing retail prices and going back to its roots, offering Oak Furniture direct to the public, at prices reflecting no middle men. This means that the public is now able to go online and buy OAKEA's up market Oak Furniture at up to 50% lower prices than only a few months ago.
This decision comes after a failed two year effort to build a Furniture wholesale operation, targeting independent high street furniture retailers, supported by an ambitious online concept developed to offer the independent Furniture retailers an online presence and hence more sales.
The failure of this strategy, and OAKEA responding by selling solid oak furniture direct to the public, cutting out the high street retailer, is symptomatic of the way online shopping has changed, and continues to change, the retail sector in several industries. A study from the Centre for Retail Research (source: http://www.retailresearch.org/whosegonebust.php) revealed that around 24,000 high street retail stores closed down between 2007 and 6th March 2013 as the UK saw the demise or shrinking of many well-known brands – Woolworths, MFI, Habitat, Floors 2 Go, to mention a few in the Home and Garden industry. This study, which includes figures up to the 6th March 2013, implies that the rate of closures is likely to accelerate this year.
Between 2005 and 2009, OAKEA went through a period of impressive double digit growth rates offering Solid Wood furniture online direct to the public. Henrik Pontoppidan explains: "Back then it was easy. All you had to do was to stick some pictures and a price tag on a website, and buy some relatively cheap advertising. There was more demand online than supply, and most of our online competitors didn't import direct, so it was relatively easy to be found and generate orders – if, like we did, you imported direct and could offer really good prices."
But, as online competition intensified and online savvy newcomers entered the online retail market – and a growing number of them also started buying direct, Stock2u Ltd. launched a new business model, based on wholesale, rather than retail. A new website offering the company's oak furniture to the public, but sending the resulting orders direct to the local authorised dealers, was developed, http://www.stock2u.co.uk.
"The thinking was that if a customer can visit a showroom and see the Oak Sideboard or Oak Wardrobe, they have fallen in love with, after having found it online, then the number of sales resulting from the website and online marketing would be many times higher," explains Henrik Pontoppidan.
However, after having pursued this strategy for 2 years, at the expense of the OAKEA retail brand, Stock2u Ltd. has still not been able to make a profit from it.
"This business model was launched, and all our efforts were focussed on it, based on the assumption that independent high street retailers, with their personal touch and service level would still have a place in the 'new economy', if only shoppers were able to find them online", Says Henrik Pontoppidan, and continues: "We have now come to the sad conclusion that this is not the case. The retailers' margin – the cost of the middle man – simply results in retail prices which are not competitive, and, as a result, the level of sales achieved through this concept has not been sufficient to sustain this business model."
This has caused the company to revive the online OAKEA brand which now, again, sells Oak Furniture, including Oak Bedroom Furniture, Oak Dining Room Furniture and Oak Occasional Furniture online at prices reflecting no middle man, and sales have immediately soared. Stock2u Ltd has recently produced a music video as a PR exercise to bring focus on the necessity for a strong online presence, and keen prices.