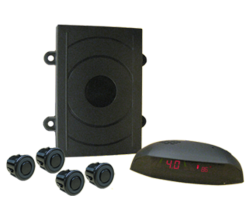 "Our efficient rear view backup sensor systems save large bus and commercial commercial vehicle fleets money by preventing accidents, expensive repairs and insurance claims," said Peter Plate, Director of Sales
Queens, NY (PRWEB) March 25, 2013
Rosco Vision Systems, a leader in commercial vehicle safety products, designs flush mount and under-the-bumper backup sensor systems for a range of automotive applications. Our under mount wireless sensors install on the rear bumper to automatically detect obstructions using ultrasonic technology. With their high bumper capabilities, they are ideal for commercial vehicles. As soon as the van or work truck is shifted into reverse, sensors are ready to relay obstruction notifications to a control box. This box in the cargo area communicates wirelessly with an LCD panel inside the vehicle. Clear warnings appear on the display, and when the rear bumper draws close to an obstruction, an alarm sounds. The audible warning beep becomes faster as the vehicle gets closer to the object. Commercial vehicle backup sensors give drivers the information they need for superior operations, from safe reversing to loading dock alignments. Each Rosco backup sensor kit includes a digital display unit, four (4) sensors, wireless transmitter and all necessary mounting hardware.
"We believe our line of vehicle vision safety solutions prevent injuries and save lives. Our efficient rear view backup camera systems, mirror systems, sun visors and backup sensor systems also save large bus and commercial vehicle fleets money by preventing accidents, expensive repairs and insurance claims," said Peter Plate, Rosco's Director of Sales & Marketing.
Rosco flush mount sensors are the ideal partners for backing up and mastering a range of parking maneuvers. This minivan, pickup and car backup sensors install securely to the vehicle rear bumper. These ultrasonic sensors install in line with the bumper for a seamless appearance and factory look. Achieve fewer accidents and greater peace of mind with Rosco. It's simple and cost effective to increase safety with automotive backup sensors.
About Rosco, Inc.
Rosco, Inc. is North America's largest bus mirror manufacturer, and a vision safety leader in backup camera systems, automotive windshield based camera recording, rearview interior/exterior mirrors and sun visors in numerous bus, truck, specialty, recreational and military vehicle markets. Founded in Manhattan, New York in 1907 as a safety product manufacturer for the automotive and aeronautical markets, Rosco moved to its current location in Queens, New York in 1964. Over 100 years later, the company is the largest supplier of mirror and camera systems to the North American bus, truck, military, and insurance markets, selling to all major OEMs and parts distributors including Navistar/IC Corp., Freightliner/Thomas Built, Blue Bird, AM General and insurance companies like National Interstate and Lancer.