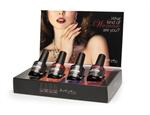 This year we want to make sure we are ready so we have increased stock levels of Artistic Nail Design products, especially the Artistic Nail Design soak off color gel which is always extremely popular
(PRWEB) March 24, 2013
eNail Supply, the popular beauty products supplier announced recently that they are increasing their stocks of top selling brands in preparation for the summer season. The company say they have learned their lesson after a sudden rush for certain brands last summer, which saw stock levels running dangerously low. This summer they are getting ready in plenty of time for the anticipated rush.
CEO of eNail Supply, Mr. Sudeep Arya said, "Last summer, things got hectic when we realised that certain brands were running extremely low. Our customers are discerning and highly fashion conscious, so they always go for the top brands and the newest shades. This year, we want to make sure we are ready, so we have increased stock levels of Artistic Nail Design products, especially the Artistic Nail Design soak off color gel which is always extremely popular. We are also increasing stock levels on our range of finger nail decals and their favourite hand cream, Gelish Hand and Nail Honey girl."
Mr. Arya went on to report that over the years they have learned to adjust stock levels in line with the fashion season. The company cite the spring and summer months as key times when beauty professionals and private customers splash out and buy extra products for their hands, feet and nails.
By being prepared, eNail Supply hope to take advantage of the coming rush in sales as their customers prepare for summer. Their stock increases include all the new on-trend colors and favourite brands, as identified by the customers themselves.
Mr. Arya told us, "We are anticipating a very healthy increase in monthly sales between now and September as a result of these stock increases and the recent discounts we applied to certain brands. Customers are always telling us that Artistic Nail Design is one of their favorites and we can see they are right just by the sheer volume of Artistic nail design soak off color gel we sell on a daily basis!"
By increasing the stock levels of their range of Artistic nail design products eNail Supply are positioning themselves as a leading supplier of branded products to the beauty industry. They already boast a massive following of loyal customers who work as beauticians and this only adds more to their popularity amongst private customers.
eNail Supply's reputation as a top class online retailer of beauty products is currently strong. They have a worldwide clientele to prove it. These stock increases will only serve to further increase their popularity and strong position amongst their competitors.
Their customer service team are now on hand to record feedback on sales and comments about the favourite Gelish hand and honey girl and the top selling brand Artistic Nail Design.
About us -
eNail Supply supplies professional and salon-quality beauty products for the hands, feet and nails. It stocks a huge range of nail beauty brands including Gelish hand & nail honey girl and Artistic Nail Design products, and a fantastic range of fingernail decals, all from the popular online store and shipped worldwide. eNail Supply provide nail supplies online to licensed nail technician, aesthetician, depilatory professionals and beauty consultants as well as regular shoppers. It offers worldwide delivery and complimentary help and advice from a team of qualified technicians. Detailed information about discounted products can be found on the website.