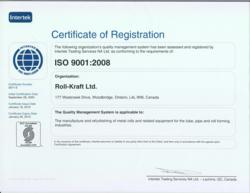 Mentor, OH. (PRWEB) March 25, 2013
Roll-Kraft, a leading producer of tube and pipe tooling and roll forming tooling, is pleased to announce that Roll-Kraft Ltd., its factory in Woodbridge, Ontario, Canada, has successfully completed its latest audit according to the ISO (International Organization for Standardization) standard. The factory is certified to ISO 9001:2008. The certificate is available on the Roll-Kraft website at http://www.roll-kraft.com/about-us/quality-management.
The audit was completed by an outside auditing firm, thereby giving an objective look at the processes and procedures in place. Roll-Kraft Ltd. has been certified since 2010.
ISO Certification is achieved by establishing a set of quality standards for the company to follow and periodic audits confirm compliance with those standards. Following the company standards has proven to aid in efficiency and reduces waste, while improving productivity. It is a great advantage to international customers when selecting a manufacturer for their capital expenditures.
About Roll-Kraft
Roll-Kraft has its headquarters in Mentor, Ohio, and maintains other facilities in Frankfort, Illinois (Roll-Kraft Northern), and Ontario, Canada (Roll-Kraft Ltd.). The company phone number is (888) 953-9400 or (440) 205-3100, and the fax number is (440) 205-3110. Please also visit the web site at roll-kraft.com. For easy and immediate contact with Roll-Kraft that transcends time zones and working hours, the website features Dr. Resolve. Simply complete and submit an on-line form and Roll-Kraft will respond.