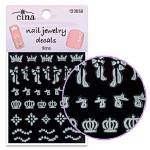 When I saw the sales figures for February I was delighted! I congratulate my management team and say a very heartfelt thank you to our loyal customers
(PRWEB) March 26, 2013
eNail Supply, the popular online retailer of beauty products for hands, feet and nails are celebrating. They recently announced record sales in February. The highest they have recorded since they started trading. The company, who sell top branded beauty products to professionals and customers worldwide are certain it is because of their high quality customer service and their knowledge of the beauty industry which results in the high sales figures they are enjoying.
Top selling brands like Nailtiques, Rejuvacote and nail decals have all been top sellers over the last month. Their monthly sales figures are now going to be used to help the company gauge the best stock levels for the coming months.
The management team also intends to offer some products at discount to their regular customers for their continued loyalty.
Sudeep Arya, CEO of eNail Supply said, "When I saw the sales figures for February I was delighted! I congratulate my management team and say a very heartfelt thank you to our loyal customers. The top selling products last month were the wholesale Essie nail polish range which outsold any other brand. I am just pleased that we continue to be able to serve our customers by giving them exactly what they need at a price they can afford."
It was not only one brand that recorded high sales however, the company reported.
They also recorded massive increases in sales for top brands Nailtiques and Rejuvacote and their nail decals are selling at an unprecedented rate. Customers have reported to the company that they hope the wholesale Essie nail polish offered at such excellent prices will continue to be available too.
eNail Supply are popular amongst private individuals and professional beauticians from around the world. As a result they already have a massive stock of beauty products catering for everything one would need for the beauty treatment of hands, feet and nails. The company now intend to look at the potential for further expansion as they beauty industry, which seems recession proof, continues to grow stronger.
Mr Arya said "As online retailers we have access to customers around the globe. While the bulk of our customers do hail from the US and Canada, we are proud of our international client base. We hope to take further advantage of our international reputation as a trusted supplier of top beauty brands with further expansions in the future."
About us -
eNail Supplies provide professional and salon-quality beauty products for the hands, feet and nails. It stocks a huge range of nail beauty brands including wholesale Essie nail polish and Rejuvacote, and a fantastic range of Nailtiques products and nail decals, all from the popular online store and shipped worldwide. eNail Supply provide nail supplies online to licensed nail technician, aesthetician, depilatory professionals and beauty consultants as well as regular shoppers. It offers worldwide delivery and complimentary help and advice from a team of qualified technicians. Detailed information about discounted products can be found on the website.