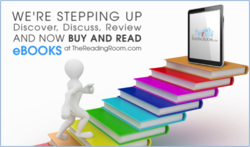 Nearly all the best things that came to me in life have been unexpected.
Sydney, Australia (PRWEB) March 24, 2013
TheReadingRoom.com has thrown open its doors as an independent eBook seller, with a catalog of almost a half million titles across 180+ publishers, including all of the majors.
Carl Sandberg observed that: "Nearly all the best things that came to me in life have been unexpected." Book readers know that their best reads were often the ones they weren't looking for, gems referred by a friend or found by accident. As a trusted source of personalized recommendations and expert book reviews - and a place for book lovers to meet one another and suggest books - TheReadingRoom.com is the perfect way to discover that unexpected great read. Close to half a million passionate readers worldwide have already joined to do just that, and now TheReadingRoom.com offers members and visitors great deals on the eBooks they find together.
CEO Kim Anderson underscored what this means to publishers: "What we are doing is providing publishers with a single way to accomplish multiple goals: reaching a global, qualified, purchase-ready audience of readers; providing them with curated and expert reviews and recommendations, capturing the consumer shift to reading on tablets and smartphones with an agnostic eBook solution that works on both iOS and Android; and getting rich consumer data on reading and buying behaviors."
Anderson also noted that TheReadingRoom.com is currently working on adding physical books to its offering and extending the service to other territories, especially the UK and Australia.
TheReadingRoom.com eBook reading app is powered by Bluefire, the industry's best creator of reading applications. Using TheReadingRoom.com app, readers can read their eBooks on any iPad, iPhone, or Android device -- and even across multiple devices if they choose.
Bluefire CEO Micah Bowers said, "We are delighted to be helping TheReadingRoom.com serve their audience of passionate readers. People who love books - who power communities like TheReadingRoom.com - like to read when and where they can. TheReadingRoom.com's Bluefire-powered apps for iOS and Android devices provide their readers with a richly customized reading experience available on a wide range of mobile devices. Together, we're helping ensure that a great book is always in hand."
TheReadingRoom.com's extensive catalog of nearly a half million eBooks is provided by Baker & Taylor, the world's largest distributor of physical and digital content and value-added services.
Baker & Taylor President of Retail Markets David Cully commented, "What we love about working with TheReadingRoom.com is that they are true book lovers who sincerely want to help readers find the very best books to read. Baker & Taylor offers the gold standard for eBook distribution and fulfillment, providing TheReadingRoom.com members a rich catalog of hundreds of thousands of eBooks."
Cully added, "We're also excited that folks at TheReadingRoom.com plan to offer physical books, too. We know that people who love books enjoy them in a variety of formats and like having both options in one place. Baker & Taylor is unique in its ability to seamlessly provide the widest selection of both physical and digital content, along with the value-added services our partners need to truly create a great customer offering. We're honored that TheReadingRoom.com has chosen us to ensure their customers have the best experience finding and receiving their next great book."
TheReadingRoom.com is an independent, curated community of book lovers where readers can

Browse and discover new books, new and favorite authors, from more than 6 million book profile pages and 3 million author profile pages
Preview books choosing from more than 400,000 sample chapters
Purchase physical books or eBooks
Get independent book reviews and bestseller lists from respected and authoritative sources, The New York Times and The Guardian
Experience a local offering in a global context
Use social networking tools and sharing to meet other like-minded readers
Manage their library and create a life log of their reading
Join and participate in free online books clubs - private or public
Subscribe to specific book clubs to access premium services such as author events, ARCs (Advance Reader Copies) and book discounts