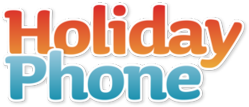 There are two key factors supporting our business idea: people are becoming more mobile, traveling more often, and at the same time cell phone usage is increasing, and people want to use voice, text and mobile Internet wherever they are. - Joacim Boivie
Stockholm, Sweden (PRWEB) March 22, 2013
HolidayPhone, a leading solutions provider for roaming free mobile Internet, voice and text services for international travelers, is now live in 27 countries with its SIM card solutions. Working with travel agencies and local operators, HolidayPhone offers travelers a mobile solution that reduces travel costs by providing cheap cell phone usage abroad.
Working with the largest and most well-known operators on each of its markets, HolidayPhone can ensure flat rate mobile internet along with the lowest rates and the best coverage for travelers. The company resells local SIM cards and handles all local registration and activation, at the same time offering full customer support in the customers' native language. With HolidayPhone travelers also keep their original cell phone number while abroad, without international roaming fees. The full service is now available for customers in USA, UK, Germany, Sweden, Denmark and Finland, and prepaid SIM cards are offered globally, working across 27 popular tourist destinations.
"It's been a successful year and we are noticing an increased interest for our services across all our markets. There are two key factors supporting our business idea: people are becoming more mobile, traveling more often, and at the same time cell phone usage is increasing, and people want to use voice, text and mobile Internet wherever they are. Our service supports the lifestyle of the modern traveler and keeps costs down for the user, at the same time offering the convenience of keeping the same number while benefiting from local rates and the best coverage. We are now looking to further strengthen our offer by partnering with some of the largest players on the travel market," says Joacim Boivie, CEO for HolidayPhone.
HolidayPhone moved to new, larger offices in Stockholm, Sweden this week and is hiring five new employees this month as sales are increasing. The company plans to double their manpower during 2013 in order to support the growing customer base. HolidayPhone will be announcing one of its largest partner distribution agreements so far next week.
For more information, visit holidayphone.com or contact:
Emelie Fågelstedt, emelie.fagelstedt(at)holidayphone(dot)com
About HolidayPhone
HolidayPhone is a leading solutions provider of roaming free mobile Internet, voice and text services for international travelers. The company operates under the HolidayPhone brand in the Nordic, UK, US and German market. HolidayPhone has seven e-commerce points of sale in five languages and covers 27 popular holiday destination countries globally. The company also operates the PrepaidSimCard.org brand globally. Headquartered in Stockholm, Sweden, HolidayPhone is a privately owned company.