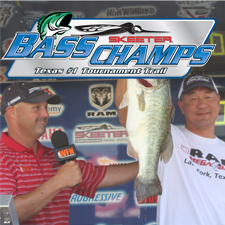 "It's like you're literally fishing for vehicles. It's awesome!"
Fort Worth, TX (PRWEB) March 26, 2013
Cast out a bait, reel in a Truck!
On April 7th, 2013 Skeeter Bass Champs will be hosting the 5th Annual Dodge Ram Mega Bass tournament on Lake Fork, a world renowned bass fishery. On that day, 7 (seven) Dodge Ram pick-up trucks, a Skeeter Bass boat, plus over 100 hourly checks will be awarded. This event is an hourly big bass event, meaning each competitor may weigh in a bass every hour during the day. The hours are from 8AM to 2 PM. The heaviest bass of each hour will win a new Ram Truck. The top 15 bass of each hour will win cash prizes ranging from $500 for 2nd place each hour to $150 for 15th place each hour. The person who catches the single largest bass of the day will receive a Skeeter ZX190 bass boat in addition to the Ram Truck. The total prize purse for the day is over $225,000, making this event the richest one day hourly big bass event for amateur anglers in the world.
It's simple "Fish-o-Nomics." The potential return on investment doesn't get much better than this one day event. For a $150 entry fee per person, anglers have a chance at 7 brand new Dodge Ram pick-up trucks and a Skeeter ZX190 bass boat. Ken Addington, an amateur angler from Texas, was the overall winner in 2012 after weighing in a 9.68 lb. largemouth. He took home a new Ram Truck and a new Skeeter Bass Boat. After the event, Ken was interviewed by the Bass Champs TV crew and he stated, "This is the coolest tournament of the year. There's no other event where you have the opportunity to catch one fish and win a truck and a boat." Mr. Addington continued, "It adds a whole new element to fishing. It's like you're literally fishing for vehicles. It's awesome!"
In 2012, over 1,700 anglers from all across the United States (27 states) recognized this amazing opportunity and made the trek to the little town of Alba, Texas in the hunt for gigantic bass setting all new participation records for this astounding event. Nationally televised on the World Fishing Network (WFN) the action and the elation of anglers as they hoisted their catch to the scales and later awarded top prize packages were caught on film. This year's event will be featured nationally on the World Fishing Network as well.
"We continue to strive to be the innovators and the leaders in the amateur bass fishing industry," stated Chad Potts, President of Bass Champs. "It is our goal to provide the best opportunities and platforms for all anglers of all ages in the amateur category while providing unparalleled paybacks. All of us at Skeeter Bass Champs would like to thank each and every angler who have come out and fished with us in the past. We look forward to seeing everyone on April 7th. This year's Mega Bass tournament is shaping up to be the biggest one yet."
For more information on the world's richest one day big bass tournament, click to http://www.basschamps.com or call 817-439-3274