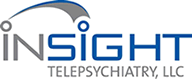 "There is a movement now to take the 'tele' out of telemedicine because people are realizing that this is just a different means of practicing medicine." -- Geoffrey Boyce
Washington, DC (PRWEB) March 22, 2013
InSight Telepsychiatry participated in a Grand Rounds presentation at the Department of Psychiatry and Behavioral Sciences at George Washington University Medical Center on March 21, 2013.
Jenny Yi, MD, a second year psychiatry resident at George Washington University Hospital, led the presentation entitled "Applications of Telepsychiatry."
Executive director Geoffrey Boyce and InSight's Washington DC-based staff participated in the discussion.
As an appropriate demonstration of telemedicine's technological capabilities, Boyce joined the group via teleconferencing.
Dr. Yi discussed the clinical benefits and challenges of telepsychiatry for both clinicians and consumers. She also stressed the efficiency that telepsychiatry provides consumers, physicians and medical administrators.
Take, for example, a clinician who is serving an emergency department via telepsychiatry.
When a patient comes in to that emergency department in need of psychiatric attention, they are quickly able to see the psychiatrist via telemedicine. The telepsychiatrist then refers that patient on to the most appropriate level of care, be that admission in to the hospital or a less restrictive, community-based option. Because of telepsychiatry, that behavioral patient in the ED is able to receive appropriate disposition and care efficiently.
This also allows other medical and behavioral health patients to cycle through the ED more quickly.
In addition to the benefit for these ED patients, the hospital staff and administrators benefit from efficient patient throughput and shortened length of stay.
On the alternative side, the physician practicing via telepsychiatry benefits from being able to efficiently see a number of consumers from the comfort of his home without having to go to the actual emergency department or waste time moving from one location to the next.
In addition to Dr. Yi's points regarding the efficiency of telepsychiatry, both Dr. Yi and Boyce shared clinical studies and research articles that discuss the efficacy of telepsychiatry.
Boyce, in his presentation, touched on future applications of telepsychiatry including in-home care, asynchronous telepsychiatry and mobile applications.
Boyce and the InSight Telepsychiatry team have been integral in telemedicine and behavioral health advocacy since the company started practicing telepsychiatry 14 years ago.
"There is a movement now to take the 'tele' out of telemedicine because people are realizing that this is just a different means of practicing medicine. The technology is here, and telemedicine has consistently been proven as an effective means of care," said Boyce.
"Though telemedicine should never replace in person care, it is an excellent tool for augmenting existing services and appropriately allocating strained resources."
After the presentation and discussion, the approximately 50 physicians participating in the grand rounds asked questions and shared their own experience with telepsychiatry in international, local and military settings.
For further information on the efficacy, reliability and acceptability of telepsychiatry in a variety of settings, patient populations and diagnoses, please see InSight's database of relevant academic and clinical research studies.