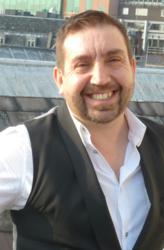 Underemployment or 'Wonderemployment', is a fantastic way for all levels of a skilful workforce to learn more
London, UK (PRWEB UK) 25 March 2013
A report into the economic climate and its effect on employment trends by researchers XpertHR suggests that we have entered a "No or not enough work economy". This period of so-called "Underemployment" means that many more people are working on a part-time or temporary basis.
Steve Hutson, founder of innovative staffing company Superstars, would like to see a new approach from the staffing industry.
"Underemployment - what a term," said Hutson. "It is typical of our unique British way that we take a positive solution and frame it as a negative."
"Underemployment or 'Wonderemployment' as I would call it, is a fantastic way for all levels of a skilful workforce to learn more, from soft skills to hard skills, to getting younger people in the activity of work and other people to learn new skills to develop their careers."
The staffing industry has been forced to react to this new climate but, sadly, the traditional approach taken by most agencies is not well suited to the current climate.
Traditional recruiters are panicking as they see certain sectors of permanent work being unfillable - due in no small part to the high rates and commissions that they themselves have created. They then turn to contracting and temp work as it can make for great business for them, often hiking up rates for rarer skills.
This can cause further problems and create broken expectations from both talent and clients - for example, juniors being paid senior rates but not able to perform adequately. Due to the traditional revenue model of margins and fees, this is unlikely to change.
Superstars offers a real alternative to this stagnant view of the staffing industry, as Hutson explains.
"We have destroyed the mark-up, margin model with our new, no-fees model. We look at Talent as people - we look at their skills, their career moves, their situation and give them the advice they need to help them move forward.
"Wonderemployment is an excellent solution for a junior or even a mature talent who wants to get into a new area. Hard skills you can learn through training, but experience and soft skills are always transferable and are more likely to get you to your full time role.
"Being in a situation of 2-3 days a week learning something new and adding value to a business as you are more cost efficient means that company is likely to grow and be able to hire full time."